University Life Onboarding Process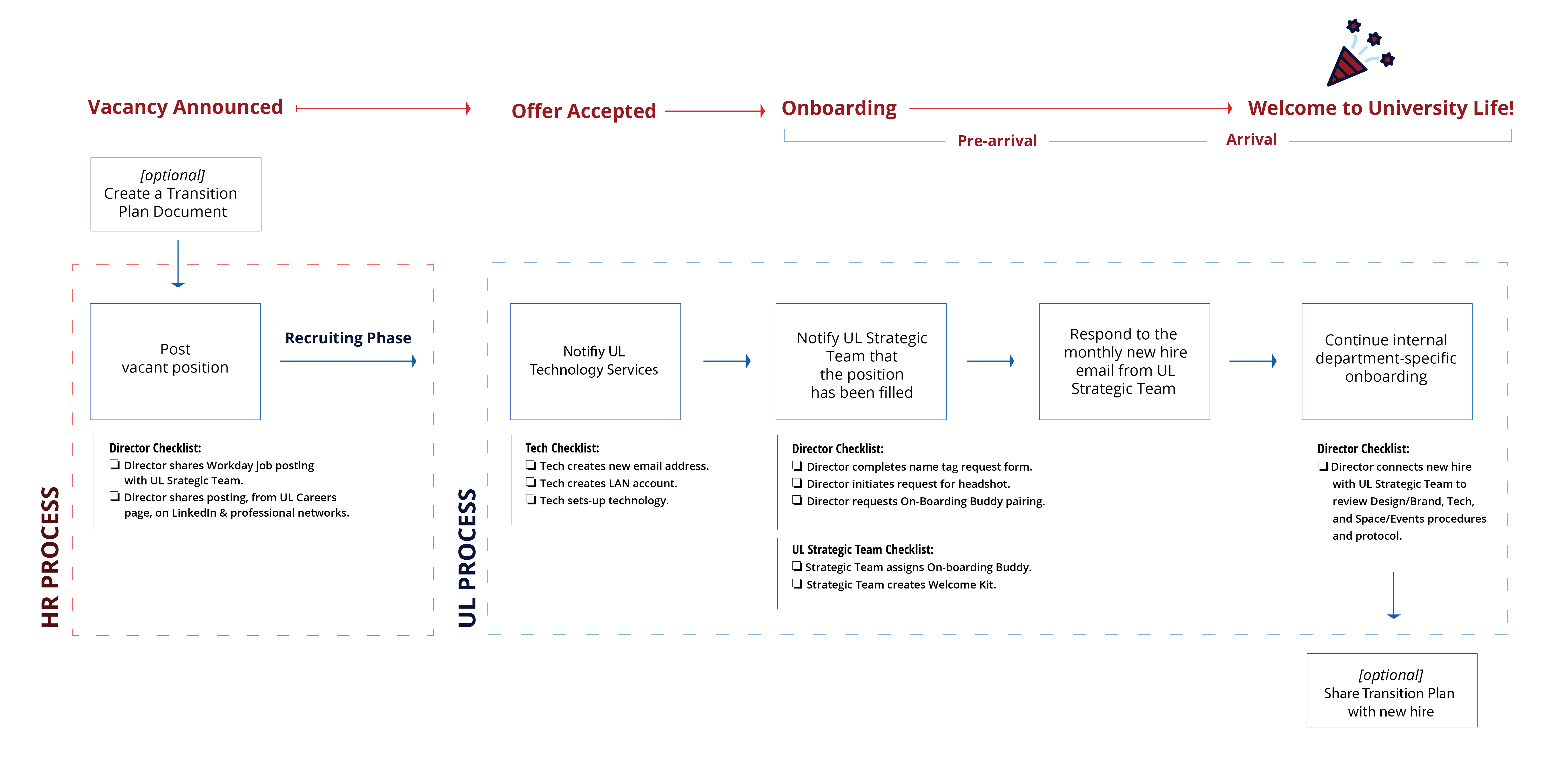 Director submits PIQ for job to be posted to Penn's Workday Careers webpage.

Once a vacant position is posted on Penn's Workday Careers webpage, Director shares posting with University Life Strategic Planning Team to be posted to Penn University Life Careers webpage.
Director shares posting via LinkedIn and various professional networks.
Recruiting Phase
Once the offer is extended and accepted by a candidate, Director notifies University Life Technology Services to create an email address and LAN account.
Director notifies University Life Strategic Planning Team that the position has been filled. The Strategic Planning team will remove the post from the Career webpage.

Director shares the University Life Nametag form with the new hire.
Director shares the Design Request form to schedule a headshot with the new hire.
University Life Strategic Team assigns on-boarding buddy to new hire.
University Life Strategic Team creates a welcome kit for the new hire.

Director informs University Life Strategic Planning team of the new hire during the monthly new hire email.
Director initiates remaining components of the on-boarding process as it pertains to the specific department.

Director connects new hire with University Life Strategic Team to review Design/Brand, Tech, and Space/Events procedures and protocol.

[Optional] Director shares Transition Plan with the new hire.
As Philadelphia's largest employer, Penn is a diverse, inclusive learning community at the forefront of groundbreaking research and academic achievements. Our student population is exceptionally bright and committed to local and global change. When you join University Life, you are joining the greater Penn professional community.
Employees are encouraged to visit the links below for additional resources provided by campus and community partners. Your manager, team, and onboarding buddy can also be valuable resources as you navigate the start of your University Life journey.
The goal of University Life's Buddy Program is to grow a new hire's circle of colleagues early into their tenure at Penn. Within the first weeks of your new role, you will be contacted by email by your assigned Onboarding Buddy so you can schedule a time to meet over coffee or lunch. Our aim is to provide you with a point of contact outside of your day-to-day team that will help you navigate the student affairs community at Penn and give insight into our division by:
Scheduling a (complimentary) lunch date
Providing context on university culture and campus norms
Serving as a connector with colleagues across the institution
Pointing out the best coffee shops and restaurants around campus
Sharing opportunities and resources such as campus traditions or recommended list-servs for you to join
Providing a tour around campus
Did you know the University of Pennsylvania campus is a designated arboretum? Learn interesting facts and familiarize yourself with campus beyond Locust Walk on a tour! All employees, not just those who are new, are encouraged to join these tours as a wellness break and community builder. Tours offer you an opportunity to socialize with colleagues while learning about campus beyond the buildings that make up University Life.
Contact Mike Elias for details on the next University Life campus tour.