Hi everyone! My name is Isha Reddy, and I'm a freshman at Wharton, and a Strategic Planning and Communications intern here at Penn University Life. Working for University Life, I get the unique opportunity to highlight some of the amazing cultural and student life events at Penn, as well as feature the exceptional students behind them through our Student Spotlight series. 
A couple of weeks ago, I was given the opportunity to interview sophomore Harley Haas and learn about her experience working with the Abuse and Sexual Assault Prevention Club to organize the first in-person Take Back the Night event at Penn since 2019. 
Today's spotlight features Zaria Franklin, a senior in the College who has been actively involved with Greek Life at Penn. Zaria has been part of the Alpha Kappa Alpha sorority since 2019, surrounded by like-minded women with a purpose to serve their communities and build lifelong bonds along the way. Apart from this, Zaria is also the Chairperson of the Step, Stroll, and Salute show, also known as the Triple S Show, which is a competition between several chapters in the Intercultural Greek Council. The Triple S Show aims to highlight the history and significance of stepping, strolling, and saluting in these organizations, which take root from African American Greek life, allowing students of color to share part of their culture with the Penn community.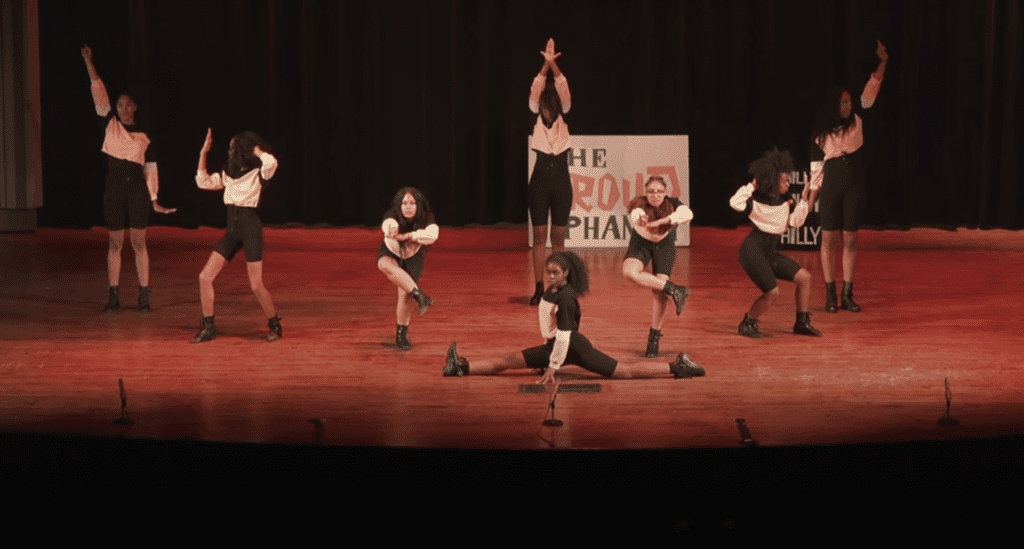 Given the major incidents of racial discrimination that this country has faced in the recent past, Penn's multicultural Greek community continues to act as a strong support system for its minority students. The show aims to address the stereotypes surrounding these organizations and educate the wider Penn community on the impact they make on those around them. As the chairperson, Zaria liaises with Janae Tucker, the Intercultural Greek Council (IGC) and Triple S Show Advisor, as well as with her co-chair Jason McCleod to make sure the show runs smoothly. Behind the scenes, she ensures that all teams are well prepared for the show, that enough staff is available on the day, that the event is well marketed, and much more.
It was certainly challenging for Zaria and her team to organize the event after 2 years of facing COVID restrictions and logistical issues, but she is extremely excited to finally bring it back to Penn. New and improved, this year's show features stepping, strolling, and saluting, unlike previous years' which only included stepping. Further, the unique theme for this show is sure to make it an exciting and nostalgic one. Each competing team was asked to pick one of their favorite childhood movies as the theme for their act and incorporate it into their performance. If that doesn't get you excited for the show, I don't know what will!
This year's Triple S Show is set to take place on Saturday April 30th, at 7 PM in the Irvine Auditorium. With over 10 teams performing, you can lend your support by purchasing tickets and cheering them on in person. But you don't have to stop there, make sure to attend their 'The Block Gives Back' donation drive and cookout the day before, as well as the free after-party following the show for some delicious food, great music, and a good time.
Until next time,
Isha Reddy
How long have you been involved with Greek life and why did you choose to join a sorority?
I have been a member of Alpha Kappa Alpha Sorority, Incorporated since Fall 2019. I joined to be a part of an organization whose purpose is to serve their communities and build bonds with like-minded women.
What exactly is the Triple S Show?
The Step, Stroll, and Salute show is a competition between chapters in the Intercultural Greek Council. It is important to our chapters given the history and significance of stepping, strolling, and saluting in our organizations.
Why is it important to the Penn and Greek life community?
Given that we attend a predominantly white institution, it is not often that we get a chance to show parts of our culture on a big stage in front of the Penn community, Greek life community, and the greater Philadelphia community as well. We are excited to share something that is important to us.
What does your role as Chairperson of the Triple S Show entail?
As Chairperson, I do a lot of behind-the-scenes work along with Janae Tucker (Office of Fraternity & Sorority Life, Associate Director of Diversity & Co-Curricular Education) and my co-chair Jason McCleod to make sure the show runs smoothly. We make sure that all competing and exhibition teams are prepared for the show, that the show is properly advertised and marketed, that we have external staff in place for the day of the show, that all teams have a fair chance at winning, etc.
Do you work with a team/other Penn organizations/sponsors to organize this?
Yes! Janae, Jason Mcleod, Luz, and Jenny have all been a big help with this process. I am very appreciative of them.
What challenges did you face when organizing this event?
One of the biggest challenges was the change from just having a step show to a step, stroll, and salute show. In addition to emerging from COVID, there were a lot of things that we had to figure out logistically.
What are you most excited about during this year's show?
I am most excited about seeing each team's theme come to life. This year, each competing team was tasked with picking a movie that we watched as kids as the theme for their show.  I can't wait to see the incorporation of these movies.
How can students get involved in the event?
Students can get involved by buying tickets for the event! There is also a can drive taking place and we are donating to a community organization, The Block Gives Back. Students can attend our cookout the day before the show (all proceeds are going to the Block Gives Back). There is also an after-party after the show (free of charge) and food will be served!