The Penn brand is designed to create a cohesive visual experience for all Schools, Divisions, Departments, and Centers.
Brand is the story you're telling to engage with your audience, from tangible items like the name, logo, and website to intangible components that help build trust and connections. Brand is not a static process; it constantly grows and adapts. This student style guide is to help new and existing student organizations create authentic, message-driven brand identities by incorporating the spirit of the Penn brand without violating University trademarks.
All student organizations will go through an annual approval process of their logo design. Organizations will use the Penn Clubs platform for approval. This entire process is facilitated by the Office of Student Affairs (OSA).
Naming Your Student Organization
When creating a new student organization, best practice is to be clear and acknowledge that you are a student organization within your logo. Below are examples of this best practice and other suggestions:
Student Nurses at Penn [Uses student in name]
Science Olympiad at the University of Pennsylvania [Focus is on the activity and relationship with Penn]
Stimulus Children's Theatre Co. [A PAC group affiliated with Platt House, but no mention of Penn or student]
Natives at Penn [Greenfield Intercultural Center (GIC) affiliated student group]
Latinx Coalition [A 6B umbrella coalition, affiliated with La Casa Latina]
PDM Executive Student Council

[Student government group in School of Dental Medicine]

 
Logo Example:
Student Club at Penn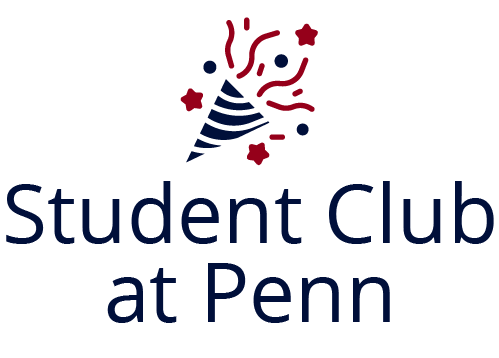 Websites, Social Media, Apps
All online presence for Penn student organizations must clearly say that the group is "A Student Organization at the University of Pennsylvania."
Logo Example:
Student Club at Penn | A Student Organization at the University of Pennsylvania

Student organization logos & designs may use:
The University Name:




"at Penn" or "at the University of Pennsylvania"

The University primary colors:




Penn Red (PMS 201) & Penn Blue (PMS 288)
Penn Red
Web
RGB: 153, 000, 000 | Hex: #990000
Print
CMYK: 0, 100, 65, 34 | Pantone: 201
Penn Blue
Web
RGB: 001, 031, 091 | Hex: #011F5B
Print
CMYK: 100, 65, 0, 30 | Pantone: 288
Student organization logos & designs may not use: 
The University Shield, wordmarks, and typography
Any elements (dolphin, books, chevron) of the Penn Shield
The University Shield with banner
The University Shield with flourish
The Athletic Split P or all-caps Athletic PENN
The University Seal
UPENN or UPenn or UofPenn
Parody or likeness of any trademarked logo/design.
Quotations/song lyrics/parody/third-party language.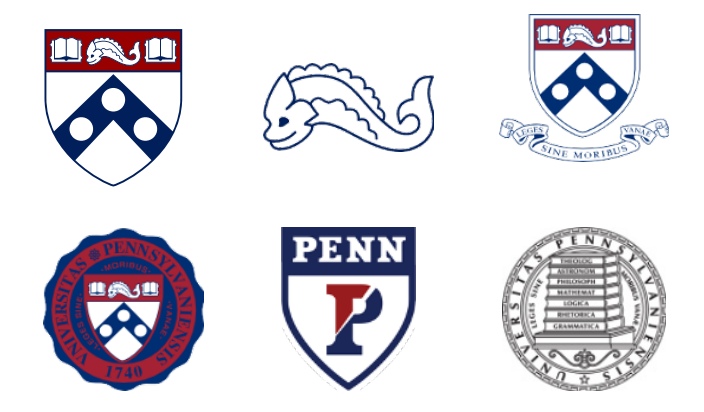 Academic and Professional Departmental Clubs
We have 700+ clubs registered with OSA. This process is for those groups. If your club is school based, you will follow a similar — but school-led — process.
Resources for Additional Guidance
All promotional products and branded apparel must be printed using a Penn licensed supplier. These companies have agreed to adhere to the University's Code of Workplace Conduct for Penn Licensed Product Manufacturers, which outlines a set of production standards and labor practices.
A student-run design agency with trained designers and developers. PSD operates under Penn Student Agencies, a network of student run businesses at Penn.