The Golden Spring Fling lived up to its name. The University of Pennsylvania celebrated the 50th anniversary of Spring Fling on Friday, April 21 and Saturday, April 22 at Penn Park. The two-day, milestone event sold more than 4,700 tickets, making it one of the highest attended events in its history.  
The student-led Social Planning and Events Committee (SPEC) works tirelessly to put on a multi-day celebration for Penn students every year. Associate Director of Programs Gabe Marenco-Garcia (they/them) oversees the Spring Fling Concerts and Spring Fling Daytime sub-committees that engineer every aspect of the planning and execution of the event.  
Concert planning begins with vetting talent. Executive Liaison Jeffrey Yu and student directors Mia Woodruff, Peyton Singletary, and Tami Owolabi worked around budgets and availability for artists around the show in the early fall. The concert committee's biggest hurdle is competing with Coachella's massive lineup every year.  
"As much as we would love to have Beyonce, the budget doesn't lend itself to that," Marenco-Garcia said. "There are a lot of factors when it comes to selecting talent. It can either go smoothly, or the process can drone on for a while." 
Lauv headlined this year's concert. New York-based rapper Lil Tjay opened the show.  
The planning process involves selecting a theme for Spring Fling and then building the weekend around that concept. Since it was the golden anniversary (50 years) of Spring Fling, liaison Queenie Huang and student leaders Elizabeth Xu, Joyce Davis, and Sheehwa You chose Golden Spring Fling. After that, the organization fit activities, food, and engagements into that theme.  
At the Golden Spring Fling, the Daytime committee offered a 90-foot slide, bungee trampoline with a rock wall, miniature golf, water race trailer, and two different obstacle courses. It welcomed artists that specialize in airbrush tattoos, balloons, caricatures, and face-painting. Nine food vendors, including Federal Donuts, Walking Taco, and El Merkury, were on hand. Giveaways were offered to the first 1,000 Penn students.  
The Spring Fling originated in 1973 as a way of building a community centered around music. Over time, Spring Fling has blossomed into an event that hosts some of the top musical acts in the country.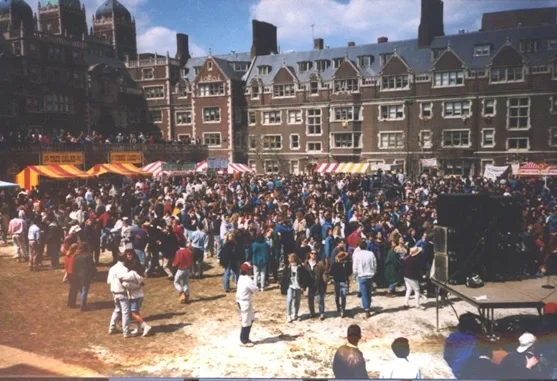 Past Spring Flings have comprised of prominent acts such as Tiesto, David Guetta, Chance The Rapper, Gryffin, Louis the Child, Zedd, Kygo, Chloe x Halle, Passion Pit, Janelle Monae, Lupe Fiasco, Rina Sawayama, Wale, Blues Traveler, Flo Rida, Snoop Dogg, Kid Cudi, Akon, Ludacris, Gym Class Heroes, Third Eye Blind, The Roots, The Black-Eyed Peas, Cherub, Hall and Oates, Tinashe, JoJo, and Jerry Seinfeld. Listen to University Life's Spotify playlist of artists that have played Penn's Spring Fling. 
"It's a chance for students to take a break," Marenco-Garcia said. "We know that that is not always a high priority for Penn students. They want to keep going, going, going…but the weekend of Fling is an opportunity for us to say, 'we are almost there, we are almost to the finish line.' It is a chance to kick back a little bit, take your mind off school and try to build a community on campus." 
Marenco-Garcia said that stress and deterioration of mental health is prevalent during the spring semester's waning weeks. As a result, students sometimes feel inclined to engage in negative behaviors as a coping mechanism to get through the finish push. Spring Fling is a space where Penn students can disconnect in a meaningful and memorable way with their friends. "To me, that's really why we have Spring Fling — to make sure that we are building that community." 
After the months-long effort of putting together the groundwork of a large-scale event, seeing students walk away with the feeling that they had an enjoyable time is the pinnacle of the weekend. Marenco-Garcia measures the program's success on whether students were able to connect with friends, unwind, and engage with the larger Penn community.  
Marenco-Garcia is always encouraging students on the Concerts and Daytime Committees to "step back and soak it in."  
"If I were to be selfish, my hope is to see the students in their element and feel there is a sense of unity," Marenco-Garcia said. "They should walk away feeling that they can take a breather and enjoy themselves. It is important that student leaders realize that their hard work has paid off." 
Spring Fling has experienced a variety of tinkering and tweaking over the past few years. Previously, Spring Fling had organized daytime performances and food vendors in the Quad with a carnival on College Green. Growing concerns about extracurricular behaviors and wellness forced a move to a one-day event at Penn Park in 2018 and 2019. Low attendance numbers motivated SPEC to shift back to a two-day model with a concert on Friday night and a Saturday daytime event. There was a growing sense that students were exhausted and gearing towards thinking about their exams and assignments by Saturday evening.  
Spring Fling was canceled in 2020 due to the pandemic, and it functioned in a virtual format in 2021, which was very well attended. Beginning with last year's show that featured Cheat Codes, Flo Milli, and Lil Yachty, there has been a yearning for daytime entertainment and events.  
In Marenco-Garcia's opinion, the first year of hosting both events on the DCC Field of Penn Park was a success.  
One element that drives Spring Fling's planning is the year-after-year reimagination to ensure 'Fling is an authentic and lively event that speaks to each generation of students. For Gen Z students in attendance, there are always conversations about experience and ambiance. A new addition to Spring Fling was the Concerts and Daytime Planning Committees' inclusion of elements that enhance the student experience. The concert included seesaws, a glow-in-the-dark park, and other attractions that provided a fun break for students in attendance. By empowering student committees to shape Spring Fling annually, the Penn student body remains the centerpiece of the conversation. 
Next year's Spring Fling will be held on April 19-20, 2024. It will mark SPEC's 35th anniversary.