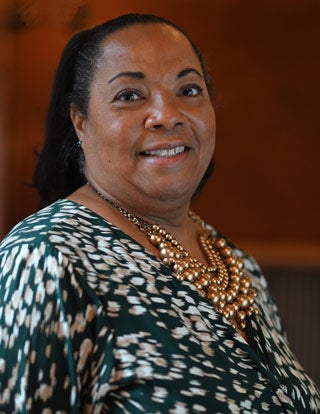 Forty years ago, Tamara Greenfield King, J.D. would have never imagined herself working in higher education, let alone in a senior leadership role on a college campus. 
King was a lawyer by trade. A graduate of New York University School of Law, she served as an attorney for more than a decade before transitioning to higher education. After 20 years in student affairs, King arrived at the University of Pennsylvania as the Associate Vice Provost for Student Affairs in 2019. 
In her current role as Senior Associate Vice Provost for University Life at Penn, she supervises Career Services, Naval ROTC, the Office of Fraternity and Sorority Life, Office of Student Affairs, and Platt Student Performing Arts House. During the 2021-2022 academic year, King interimly oversaw the six cultural resource centers on campus: Penn Women's Center, LGBT Center, Center for Hispanic Excellence: La Casa Latina, Makuu: The Black Cultural Center, Pan-Asian American Community House, and the Greenfield Intercultural Center. 
Her legal background aligns fittingly with the University Life Senior Leadership team's vision of collective wisdom. Using different lived experiences and representation — in Tamara's case, as a Black woman with extensive courtroom skills — helps the Leadership Team make informed decisions for students to engage, thrive and succeed. 
A native of Easton, Pa., King attended Penn State University as a first-generation, low-income student. She received her bachelor's degree in political science with minors in sociology and Black diaspora studies. 
As a student in the 1980s, Tamara protested Penn State's endowment investments in the diamond industry in apartheid-era South Africa. She fought against racism Black students faced in State College, including racist encounters such as appropriation through Halloween masks and costumes. King extrapolates her experience as a young student activist in the early 1980s to her present involvement in higher education. 
"When working with students, I understand their passion around a particular topic," King said. "When students engage in activism, I want them to have well-thought-out ideas, well-planned events, and well-executed advocacy. Because whether we recognize it or not, students can shape the climate and the way the administration responds to a multitude of issues." 
King received her Juris Doctorate degree at NYU School of Law, practicing for 12 years in Cincinnati and the Lehigh Valley. During that time, King also became the first African American Assistant District Attorney in Northampton County, Pennsylvania. 
Marriage took King to St. Louis, setting the stage for a career transition. Rather than resetting herself professionally with a new law firm in Missouri, Tamara found a more family-friendly career field in higher education. Admittedly overqualified, she took a position as the Director of Student Conduct and Community Standards at Washington University in St. Louis. 
"When certain opportunities present themselves, you have to take advantage of them," King said. "I try to mentor students — more particularly women — to always have a broad base of skills and experiences within your network. So, when an opportunity presents itself, whether you've ever considered it or not, you can give it its proper vetting."
"When certain opportunities present themselves, you have to take advantage of them," King said. "I try to mentor students — more particularly women — to always have a broad base of skills and experiences within your network. So, when an opportunity presents itself, whether you've ever considered it or not, you can give it its proper vetting."
Over 20 years, King's role at Washington University in St. Louis expanded to become Associate Vice Chancellor for Student Support and Wellness. She oversaw the university's student health system, sexual violence and prevention office, and behavioral intervention crisis management team. King directed services geared for first-generation and low-income students by addressing basic needs insecurity. 
King said her background allows her to look at situations through different lenses. She looks at them from a lawyer's perspective with a focus on meeting compliance, managing risk, and following procedure. She can see them from a student affairs viewpoint, as she has now been in an academic setting longer than she has a courtroom. Tamara also views issues as a former Pell recipient that attended college long before additional resources were available for low-income students. 
During her time at Washington University in St. Louis, she became one of higher education's most prominent voices in student conduct and Title IX. King served as the first Black president in the Association for Student Conduct Administration. 
In late March, King joined the rest of the University Life Leadership Team at the Women of Color in Higher Education Summit, hosted by Penn's Graduate School of Education, Center for Professional Learning, and Office of Student Services. During her remarks, she stated it is imperative for women of color to research and write within their own areas of expertise, noting that higher education needs to have diverse perspectives as part of the teaching and learning of graduate and professional students heading into the profession. 
King stressed the importance of developing social networks, mentorships, and supports — "sister circles" — for female students of color. "We have to teach the importance of networking and mentoring," she added. "To the extent that you're able to help people make things happen, then you should mentor folks. You should also be surrounded by mentors who don't all look like you, who all aren't the same gender, and who are different, but still can serve as a positive mentor for you."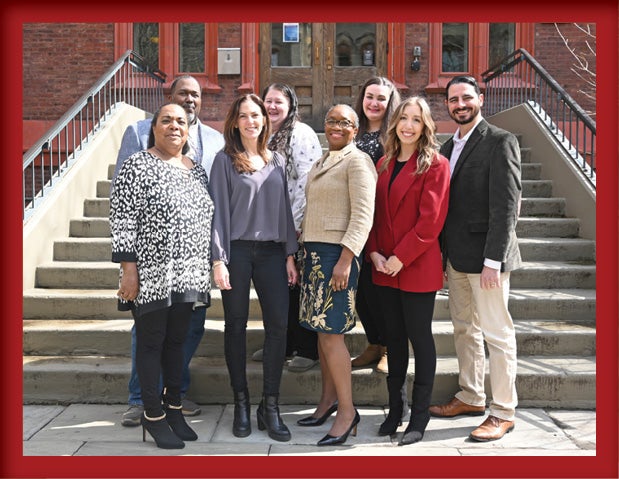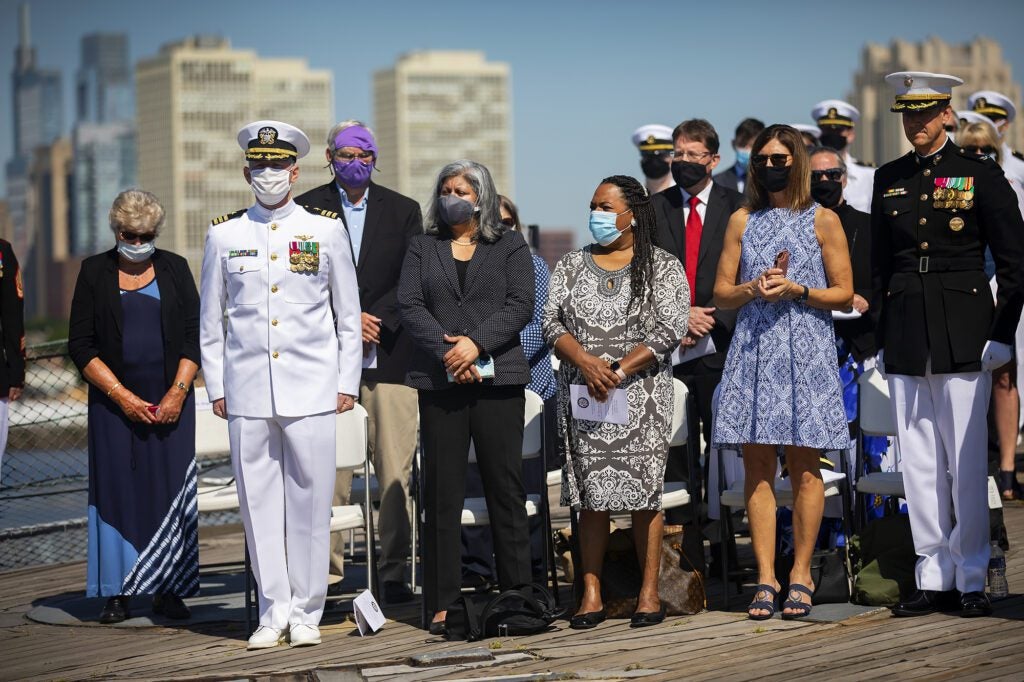 Tamara said she is proud to be a part of the "most likely the most diverse leadership team in the Ivys." Uniquely comprised of all female-identified women that are Persons of Color, the University Life's leadership team comes together to have frank and open conversations about what can be seen as Penn's strengths. Diverse representation also allows them to see systematic flaws within the approach to student affairs and gives everyone at the student table an equitable voice. 
"When a new student arrives on campus and sees people of color, specifically women of color in significant leadership roles, it demonstrates an institutional level of appreciation of diversity, equity, inclusion, and belonging," King said. "We're proud to say, we are able to walk the talk, because we come with that perspective." 
The Leadership Series will continue throughout May with feature stories on Sharon Smith, Associate Vice Provost for University Life, and her reconstruction of departments around the concept of community care to support students in crisis; Laurie A. Hall, Assistant Vice Provost for Strategic Planning and Operations, and her reimagination of how Penn uses space through a social justice lens; and the division's success at NASPA as an embodiment of collective wisdom.