Student Spotlight: Melissa Echeverry, Master's in Social Work Program, Graduate Teaching Fellow, and Graduate Resident Advisor in La Casa Hispanica
"According to what someone told me: They say the moon is always one, By the sea or by the mountains. So I yell to the villain, I would be Boricua Even if I was born on the moon."
As a Puerto Rican, I carry Puerto Rico with me everywhere I go. Puerto Rico is with me in my language, in my thoughts, and in my heart. Because regardless of where I am, I will always be "boricua". That's the sentiment I feel, unites us Latin Americans the most, that love for our heritage. 
Our heritage shapes our ways of being and feeling. It's the reason we connect despite our many differences, and why fundamentally we are all brothers and sisters. Precisely because it unites us in that way, we must celebrate it. This is why creating exposure and coming together as a community for events such as Latinx Heritage Month is so important. La Casa Hispanica is a community at Penn that understands and is dedicated to creating that space for students to celebrate heritage. La Casa Hispanica is part of the modern languages program in Gregory College House, designed to create a safe space for students to practice their language skills while learning about different cultures and involving themselves in a welcoming community. Melissa Echeverry, the Graduate Resident Advisor for La Casa Hispanica, sums it up best with, "My goals are to have La Casa Hispanica be a place where people are practicing Spanish but that they can also feel like they can be their authentic selves and bring that into Spanish conversation.".
Melissa is of Mexican and Colombian roots, something she displays proudly as part of her identity. Coming from a Mexican and Colombian background meant that she had to overcome many obstacles throughout her life, such as learning the English language and helping her parents navigate many aspects of daily life, especially translating important documents. Additionally, she faced a challenge most minorities face, a lack of belonging. Melissa often felt like she was not fully accepted in undergraduate communities, "neither here, nor there". That challenge inspired her to create a safe space to experience "Latinidad". To be her authentic self, essentially, she created the community in La Casa Hispanica that she wished she had as an undergrad.
Last week, I had the wonderful opportunity to interview Melissa about her life, culture, and vision for Casa Hispana.
What's your name?
My full name is Melissa Araceli Echeverry
Where are you from?
I am from Los Angeles, but I was born from immigrant parents from Mexico and Colombia.
What are you studying?
I'm pursuing my master's degree in Social Work
What are your goals for the future?
This has always been a difficult question for me. I always do what I am passionate about. I have been very fortunate that my family has supported me and that I've been able to travel and get to know many different cultures and return to school after so many years. I think my goal for the future is to work in Latin American communities. Right now, I'm studying health care systems because it is so difficult for Latin American communities with the various circumstances such as documentation, health insurance, and even language barriers. My goal is to ultimately help Latin communities navigate the healthcare system.
Tell us a little about your upbringing. What is your connection to the Latin American community?
I grew up in Valle de San Fernando with my parents. I felt like I grew up very quickly because I had to learn how to read documents, become a translator for my parents, and understand what people were saying, or at least pretend that I did. I was the first, not only to go to school, but to leave my home to study. I was actually 17 when I left my home to go to college, which, in retrospect, I think is crazy, but it is achievable. I got a degree in Political Science and stayed an extra semester to study abroad at the University of Belgrano in Buenos Aires. I chose a program that allowed me to study and work as a volunteer because I was interested in joining the Peace Corps, but wasn't sure if that was something that I would enjoy doing. Thus, I decided to join this program in order to explore different cultures whilst also volunteering and I loved it. I got to experience what life is like outside the U.S and how political and sociological systems differ. What stood out for me was learning from different perspectives. That's why I enjoyed my time traveling, because I really enjoyed learning through all the different perspectives, and it opened the doors to understanding how different cultures work
La Casa Hispanica and Latinx Heritage Month
What is La Casa Hispanica?
La Casa Hispanica is a Modern Language House, housed at Gregory College House, in which we create an opportunity for students to just be in community and practice Spanish.
Who can be a part of La Casa Hispanica?
Anyone is welcome to join, regardless of your Spanish-speaking level. We really want to create a safe space for you to not only practice Spanish but also learn about all the different cultures of all the places that speak Spanish. This is because I often feel like we present Hispanic culture from one point of view, as if it is the only way in which Hispanic cultures look like, and that's not true. Hispanic culture looks very different across different cultures and, even within a specific culture, it can look very different. That's something I wanted to make sure we talked about in La Casa Hispanica. Additionally, we are going to practice our Spanish and learn about different cultures through activities such as cooking, games, and conversations because it is an opportunity to build community and make students feel more comfortable. The real purpose of La Casa Hispanica is to build community, learn about cultures in creative ways that also allow you to learn a little more about yourself as you improve your language.
What is your role in La Casa Hispanica, and why did you choose this role?
Technically, I am a teaching fellow, and I coordinate La Casa Hispanica. I chose this role because when I was an undergrad I didn't really find my community. As a 17-year-old first-generation college student who also wasn't living in the dorms because I wasn't aware that the housing application was separate from the college application, there was so much I didn't know and it was especially hard to find a place where I fit in. I also felt that some spaces didn't accept me as I was. I felt like I wasn't part of "ni de aqui, ni de alla" — neither here nor there. Thus, when Gwen (Gregory House Director) approached me with the opportunity to be as creative as I wanted to be and to create that space, I was thrilled. I finally created the space that I wish I would've had as an undergrad, and I am able to experience my "Latinidad" in the way I want to and that was genuine to me. I just want to continue encouraging people to be their authentic self.
What are your goals with La Casa Hispanica?
My goals are to have La Casa Hispanica be a place where people are practicing Spanish, but that they can also feel like they can be their authentic selves and bring that into Spanish conversation.
What is La Casa Hispanica doing to celebrate Latinx Heritage Month?
Casa Hispana is going to be doing a couple of things. We hosted a bring your own mug event on Tuesday September 20th, because our class is on Tuesday and I wanted to make sure all our members could participate. They can learn more about mes de latinidad while making something to share with Gregory as a whole. Another thing is that Philadelphia is really great at having free events to celebrate our culture. Specifically, for "Mes de Latinidad", they have an entire website with links and it spans a lot of different cultures across the city. We can't go to all of them due to time constraints, but I highlighted certain events on the weekend that we can all go to. Really, this is about bringing exposure to the Latino community in Philadelphia. It's about how we can celebrate Latinx Heritage month, not just here at Penn, but with the wider community, with events like the Mexican Independence Day Parade, the Puerto Rican Day Parade, etc. This is a wonderful opportunity for anyone who wants to join because it is all free.
Can you tell us about other events that La Casa Hispanica will hold, that the Penn community might be interested in?
We are trying to do smaller events to see how it goes, and later we want to expand and do events for the wider Penn community. For now, it is just a little too early.
Any advice for the Latin American community at Penn?
I think at Penn there are a lot of opportunities to be part of a community and I believe it's very important to be part of a community where you are seen. As a minority, you can often feel like you don't belong and college is difficult both academically and emotionally, so I think it's important that we be intentional in looking out for each other. Join spaces where you can be yourself and where you can connect with others. Be intentional in creating a community where you feel seen.
We are going to play a short game of hot takes, but a Latin American version! Choose one of the two possible options:
Arepas (Latin American food) or Empanadas (similar to Latin American food)?
I have to go with Arepas Colombianas, but I want to make it clear that it is Arepas with queso.
Daddy Yankee or Bad Bunny?
That is such a hard question because if you asked me two months ago, I would've said Daddy Yankee hands down. However, Bad Bunny's last album was so good, because it was able to incorporate so many different styles. Therefore, just because of that last album I have to go with Bad Bunny.
Arroz (rice) or Frijoles (beans)?
When I did Peace Corp. in Senegal, I ate rice every single day, so for the longest time I couldn't eat rice. Since then, it's been 5 years, and rice is so diverse, you can do it in so many different ways that I have to go with rice.
Que? (What?) or Mande? (What? 2.0)
I have to go with Mande. Because if I ever said que" in front of my mom she would kill me. But when I'm with my friends, I use que.
Tu (you) or Usted (you 2.0)?
I have to use Usted with every person I don't know, because my family would also kill me if I said that.
Loteria (Mexican bingo) or Domino (dominoes)?
You make it so hard for me because I have a Mexican mom and a Colombian dad, so we have played both games in our home. I'm going to say dominoes because I loved playing it and my parents would always make me laugh because they would just cheat the game.
Messi or Ronaldo?
Historically, I have been a fan of Ronaldo. I remember watching the TV and asking myself who is this young guy who is good looking and also really good? He also happened to be playing for Manchester United alongside Carlos Tevez, who is my favorite player of all time. So, I have to go for Ronaldo.
As a member of the La Casa Hispanica community, I can say that Melissa has excelled in creating a space where everyone is welcome. La Casa Hispanica is refreshing. It gives us a break and allows us to connect, be ourselves, and have fun. As a Puerto Rican, I'm always yearning for an opportunity to express myself and my "Latinidad", in La Casa Hispanica I get to do so. Additionally, I have learned a lot about other Latin American countries and their experiences through creative outlets, such as games, food, and music. Therefore, I encourage everyone to join La Casa Hispanica. Join us to explore different cultures and improve your Spanish, but most importantly, join La Casa Hispanica if you're looking for a place where you can be yourself in a community that supports you.
Reopening the ARCH building
More than 100 students, faculty, and staff gathered in the ARCH building lobby amid the dulcet tones of the Penn Glee Club to celebrate the reimagining of the Arts Research and Cultural House (ARCH). The initiative will expand the scope of the cultural resource centers and affiliated groups, many of which were formerly housed at the garden level of the ARCH building. The centers will now have full use of the building, and Natives at Penn, formerly located at the Greenfield Intercultural Center, will join them.
Penn President Liz Magill spoke at the reopening ceremony. "For us to be a great university, we must be a welcoming, inclusive, and equitable community," she said. "The reimagining of the ARCH building, so fully in step with this idea and so strongly guided by student input and student leadership, is a critical milestone on an ongoing journey we're all working on. It embodies our efforts to make Penn a supportive place for our entire diverse community."
The Sept. 7 event celebrated the culmination of a long-term project. In response to student advocacy for additional space for the cultural resource centers, University leaders affirmed expanded use of the ARCH building in the fall of 2021, and student advocates and University Life worked with Provost Administrative Affairs on a multiphase project. Planning will continue through the current academic year to assess longer-term opportunities.
"The additional student space in the ARCH signifies a continued commitment by the University to strengthen their support and resources for the expanding diverse student populations," said Tamara Greenfield King, interim vice provost for university life, who oversaw the project. "This is just the beginning of many more enhancements to come."
Mercedes Owens, former president of the Undergraduate Assembly, worked with University Life on this change, attending weekly meetings with a student steering committee with the goal of creating tangible change. "I knew this would require purposeful collaboration, intense conversations around activism and allyship, powerful relationship development, and, most importantly, the establishment of trust," Owens, who graduated in 2021, said in an email. "Each generation of student leaders knows that making progress on this issue is one of the ultimate goals, especially the leaders belonging to marginalized communities."
Many of these students see the need for social equity in the form of centrally located safe spaces, Owens said. "The ARCH expansion is an incredible first step to address this issue."
The entire building now houses La Casa Latina, Makuu: The Black Cultural Center, Natives at Penn, and the Pan-Asian American Community House (PAACH) and includes common spaces and reservable rooms for community gathering, group study, and meetings.
The latter is essential, said Ashley Uppani, a third-year biochemistry major from Collegeville, Pennsylvania. Uppani is involved in the Asian Pacific Student Coalition and Spice Collective, which hosts "food-fueled discussions" for women and nonbinary people at PAACH. "With how involved all the cultural organizations are in planning events, ensuring the ARCH maintains space for use is essential, as otherwise we are left scrambling to find rooms," she said.
The process to get this space has been a two-decade-long student advocacy process, said Jeffrey Yu, a fourth-year philosophy, politics, and economics major from Roslyn, New York, representing the Asian Pacific Student Coalition. "It went on before us and will go on after us. We'll continue fighting for space."
Yu participated in the ribbon cutting at the ARCH reopening, along with Magill, Taussia Boadi, a third-year sociology major from Westchester, New York, representing UMOJA, and Elizabeth Ramos, a second-year biochemistry major from Eastvale, California, representing the Latinx Coalition.
"Our goal, for a long time, was having our own individual houses," said Ramos. "Seeing that we don't just have a floor now and we have a whole building is a great first step." Other positives for student representatives in the process included working directly with the administration and talking to with their constituencies and communities about what they wanted to see going forward, Ramos said. Building trust and transparency, she said, was paramount.
Ramos invited students to give feedback on the ARCH building. University Life created a survey where users can comment on building aesthetics, usage, and operations.
"The ARCH is now rebranded as a space for the cultural houses and their constituent members or affiliates," said Boadi. "We should be prioritized in space as well as every other aspect of this building."
"We're going to fill it; we're going to show we need more," Ramos said. "We're already doing that."
Penn dedicates ARCH building to cultural centers after decades of student advocacy
After years of campaigning and student advocacy, Penn has begun renovations on the Arts, Research, and Culture House, designating it as the home to the University's main minority coalition groups and cultural resource centers.
The grand reopening of the redesigned ARCH building, which will include remarks from Penn President Liz Magill, is set for Sept. 7 from 11 a.m. to 6 p.m. but renovations will continue through the spring 2023 semester. 
The main minority coalition at Penn, known as the 7B, came to an agreement with the University in May to expand the cultural resource centers located in the ARCH's basement  — which include Makuu: The Black Cultural Center, La Casa Latina, and the Pan-Asian American Community House — into the rest of the ARCH building, incorporating study rooms, social spaces, and re-designated offices.
Natives at Penn, which joined the 7B in December of last year, will move from the Greenfield Intercultural Center to new space in the renovated ARCH building. Staff from Penn's three cultural resource centers also moved upstairs from the basement as of Aug. 5. Second and third floor office spaces are being repurposed as group study and meeting rooms.
With the expansion of the ARCH, we're also welcoming in more of Penn's diverse student population and making sure they have a place and space as well.
The renovations are being branded under the "Reimagining the ARCH" campaign. University Life, currently led by Interim Vice Provost Tamara Greenfield King, is overseeing the renovations in collaboration with students, cultural resource center staff, faculty, and administration.
King told The Daily Pennsylvanian that the University views the remodeling as a "welcomed, positive, historical moment" and a representation of the University "making good" on its commitment to its diverse student body after their years of advocacy.
"[Students] have advocated, on their behalf, for the opportunity to actually have more space on campus — have more social space — and been sometimes critical of the University," King said. "But at this moment, we are proud to say they will have the ability and are being gifted the entire [ARCH] building for their access and use for educational programs, social programs, public events, by way of speakers, lecture series, and all sorts of cultural celebrations." 
ARCH is in the initial stages of remodeling and designating space for the respective cultural centers for groups in the 4B: UMOJA, the Latinx Coalition, the Asian Pacific Student Coalition, and Natives at Penn. The building will undergo aesthetic and physical changes this fall, primarily to the first floor.
"Inclusion and belonging are essential to the mission of the University, and we are proud to work with our students and the Cultural Resource Centers to create a vibrant and supportive home at the heart of campus in the ARCH," Interim Provost Beth Winkelstein wrote to the DP. 
The ARCH building, built in 1927, first housed Penn's Christian Association. Prior to the renovations, the building was home to the Center for Undergraduate Research and Fellowships, scholar programs, meeting space, and administrative offices. The University relocated CURF to a "temporary home," freeing up space for the CRCs.
Students — including leaders in the 7B and staff at the CRCs — were included in the conversation to remodel the ARCH building and decide how to equitably distribute the space. Some students, including Nursing sophomore Salvador Galvez Jr., who joined La Casa Latina as a programs assistant last year, expressed excitement to use the new space from the fireside lounge on the second floor to new opportunities for cross-center programming.
"La Casa became a second home, and I was there almost every day," Galvez said. "I was advocating for the students and their space at La Casa and expanding that."
"One of my biggest roles was advocating for our constituency, which is all Latinx identifying groups, what they wanted out of ARCH, and what they saw ARCH being," College sophomore and Internal Chair of the Latinx Coalition Elizabeth Ramos said.
Ramos and Galvez were a part of one of three sub-groups in a student steering committee for the ARCH renovations. Students in the sub-groups were tasked with the space allocation, aesthetics, and building operations. 
"We were given the floor plans of ARCH from the basement to the third floor," Galvez said. "We were told what rooms were available, we were given the square footage of every room and how many, how many people they fit based on its capacity."
The students on the steering committee ensured that a prayer room, group study rooms, and more spaces were present in the redesign proposal.
The Latinx Coalition and other groups have lobbied administrators to include a community kitchen, an addition that King said will be evaluated after administrators view how students utilize the ARCH space over the next six months. The grab-and-go food area near the entrance has been removed, she said. 
"It's just been incredible to feel really valued and listened to when our work went to administration," Ramos said.
For years, students have advocated for more space for the cultural centers on campus. With the expansion of cultural space in ARCH, Ramos is hopeful that first-year students can feel more represented and included on campus.
"Generations of our community have fought for this for them," Ramos said. "I'm excited to have [first-year students] see us in these spaces and get to know them."
Students representing the main minority coalition groups are still determined to advocate for more cultural space on campus, including but not limited to, an individual house for each member of the 7B — a guarantee that helped earn the coalition's support for the University's proposal to remodel ARCH building after rejecting a previous offer to do so in January 2020.
"The administration promises that this was temporary, and that the long-term goal was to eventually have a Black cultural house," College sophomore, UMOJA internal chair, and ARCH steering committee member Jessica Thomas said. 
Office of Fraternity & Sorority Life Models Leadership and Inclusive Excellence
Jessica Ryan, Director of Fraternity & Sorority Life Leadership Community, was selected to serve as the Panhellenic Officer for the Sigma Delta Tau National Sorority Board of Directors for the 2022-23 academic year. Ryan will help drive the organization's vision, in addition to serving as the Chief Panhellenic Officer to the National Panhellenic Conference (NPC).
She is one of three University of Pennsylvania Office of Fraternity & Sorority Life (OFSL) staff members to volunteer for their national organizations. Associate Director for Diversity & Co-Curricular Programs Janáe Tucker and Administrative Coordinator Rachael Garrett Canfield also hold positions with their alumni sororities on the national and regional levels.
In her role at Penn, Ryan oversees the OFSL staff to lead chapter and council advising, leadership development, and programming areas in fraternity and sorority life.
With over 15 years of experience at the Panhellenic level, Ryan brings a specific knowledge and passion for working with all 26 member organizations in the NPC. She said her volunteer roles strengthened her professional development at Penn by learning about fraternity and sorority life at other universities and working with students throughout the country.
"Sigma Delta Tau has connected me to so many people across generations and from many different backgrounds," Ryan said. "Being able to volunteer alongside these individuals has truly enriched my life." 
Beginning as an undergraduate at the University of South Florida, Ryan has over 15 years of experience at the Panhellenic level. As a graduate student, she sought out volunteer opportunities with her sorority by connecting young alumnae to the Sigma Delta Tau Foundation. Her involvement expanded for the national organization, traveling to chapters throughout the country as a Recruitment Specialist. Later, Ryan became a Co-Recruitment Chair and Release Figures Methodology (RFM) specialist for the NPC. 
Ryan designed Sigma Delta Tau's first Alternative Break initiative. She led the program for five years, coordinating and leading student members on service-learning activities in Tampa Bay and Philadelphia. It specialized in child advocacy and supported domestic violence victims.
"As a college student, involvement lays a foundation for leadership development, and the structure of fraternities and sororities provides that starting point to engage with programs offered on a national and local level," Ryan said. "As values-based organizations, members learn a lot about their personal values, and their brothers, sisters, or siblings help their members stay on the path to align these values.
"When you graduate, that shouldn't all just go away."
Ryan has volunteered for the Sigma Delta Tau national convention that occurs annually or bi-annually. She has worked on the planning team, presented workshops, and spoken at several national conventions. Ryan said it has "taught me a lot about conference planning and developed my skills as a facilitator and speaker."
Experiencing the behind-the-scenes and business side of national conventions has guided Ryan in her advisement of Penn's fraternities and sororities. Involvement in the national fraternity and sorority community helps serve as a model for Penn students to uphold OFSL's Pillars of Vanguard, Foundation, Compass, Relationship, and Impact. She encourages chapters to use their voice and speak up for positive changes in their national organizations. Ryan helps student leaders identify campuses to connect with at their respective conventions.
"When our students come back from a convention, they are often excited about a speaker they heard or a goal they have," Ryan said. "As advisors, we take that momentum and help the student leader see their vision come back to life at Penn."
For Janáe Tucker, being a member of a fraternity or sorority is more than just letters across a person's chest
"We wear the letters — the letters don't wear us."
"We wear the letters — the letters don't wear us."
Tucker has carried out that mantra as a sorority alumna. A proud sister of Lambda Theta Alpha, she served on the national convention committee, national constitution, and standing rules committee for LTA. Tucker was the emcee for the national convention.
She has worked closely with her sorority on the national level. Tucker prepares convention speaking advisors, hosts receptions for alumni, and communicates with faculty members.
"For those that stay involved post-undergraduate, the work we do is because we love our organization and want to shape it with great leaders," Tucker said. "It is most definitely all volunteer, so the love is real."
Her experience working with national chapters provides her with real-life diversity, equity, and inclusion scenarios that she applies in her role as the Associate Director for Diversity and Co-Curricular Programs at Penn.
National conventions leave her reengaged and energized to come back to Penn with another level of advice and leadership. Tucker points to recruitment tips, interpersonal skills, policy updates, and creative Brotherhood and Sisterhood event ideas as takeaways from her involvement with Lambda Theta Alpha. She said she has gained "advice on how to push the narrative on fraternity and sorority life and its lack of identifying queerness or toxic masculinity topics that organizations usually don't shed light on as much as they should."
Tucker is also involved with her undergraduate chapter at Rider University as an alumni advisor. She has served as an area coordinator for two New Jersey regions that consist of 11 undergraduate chapters.
Her commitment to Lambda Theta Alpha national organization is part of her, and she expects to be involved more to raise funds for the organization's national philanthropy, St. Jude's Children's Research Hospital. Tucker hopes her passion, pride, and charisma serve as a model for students to push hard for the fraternity and sorority community at Penn.
Canfield was appointed to a Budget District Director position at Kappa Alpha Theta at its national convention this summer. She will support chapters with creating budgets and ensuring compliance in a district spanning Indiana, Eastern Tennessee, and Kentucky.
She served as a volunteer alumnae advisor for Penn's chapter for 12 years. Canfield volunteered regionally at the Philadelphia Alumnae Chapter as a member of the Foundation Reading and Scoring Committee. Canfield recently began her second stint as president of the University of Pennsylvania Advisory Board.
"Personally, I love giving back to the organization that did so much for me, and it was through my experience as a volunteer local advisor that I realized student affairs and fraternity and sorority advising was my passion," she said. "I would not be working in this office today if I had not started as a volunteer alumnae advisor. I do this work because being in a sorority literally changed my life."
Canfield currently serves as the Administrative Coordinator at OFSL. She is the human resources and business manager of the department. Canfield handles all financial matters and manages the OFSL Grant Funding Program.
Canfield believes her work as a young delegate of the Kappa Alpha Theta convention body has a large impact on the future of the organization. One of her sorority's aims is to create the widest Influence for good, and she strives to live to that standard in her role at Penn. Canfield noted the philanthropic side of fraternity and sorority life has shaped her personal philosophy since she was an undergraduate student at Ole Miss.
By working strategically with partners across campus, OFSL lives up to its Vanguard pillar through high-quality programs and enhanced learning resources for students and staff. Canfield added that the department's 40-plus national organizations work to help Penn fraternity and sorority members become leaders in their community, create inclusive spaces, and maintain their founders' principles.
OFSL hosts more than 40 fraternities, sororities, and co-ed organizations that include 3,000-plus members. Its philosophy for an optimate fraternal experience is through an active, four-way partnership with each chapter and its leadership, alumni/ae members through advisory boards, national headquarters, and the University of Pennsylvania. This collaboration is essential to providing maximum support to undergraduate chapter members and leaders, and provides a strong, consistent message for the entire community. Visit the OFSL website on chapter information and how to join an organization.
Reimagining Space, Place, & Belonging
Laurie A. Hall, Assistant Vice Provost for Strategic Planning & Operations in University Life, has always brought a community-building lens to her work. From her early career as a certified social worker, through her time as a university administrator, Hall has consistently leveraged her talent and experience to build partnerships, physical spaces, community, and a sense of belonging.
In her current role, Hall oversees the advancement of University Life's strategic vision and planning. Among her responsibilities, she cultivates strategies for establishing an ethos of dignity, cultural humility, and inclusion. Her team, which includes strategic initiatives, partnerships, communications and design, and strategic operations was created in Spring '21 and is uniquely positioned to work cross functionally managing University Life's mission-oriented projects.
Prior to her time in higher education, Hall spent a decade in the nonprofit sector, reintegrating formerly incarcerated persons and their families into community living. In that organization, she managed an undergraduate internship program that partnered with Rutgers University and Seton Hall University.
Hall identified "a need to go on the inside" to see how social work students were preparing to work within the communities they served. Her first role, as the Director of the Center for Volunteerism and Service Learning at Saint Elizabeth University, required oversight of the training and placement of students in community engagement roles in New Jersey. She later transitioned to Princeton University to assist with the development of its first campus center. She was charged to create internal campus community and cultivate partnerships between the Frist Campus Center and Princeton's cultural centers. That transition began a 17-year tenure at Princeton in multiple roles, most notably as Assistant Director for Administrative Planning in the Office of the Executive Vice President.
Coming from a nonprofit world that was serving people from disadvantaged backgrounds and trying to reintegrate them into communities, taught Hall how to identify commonalities in groups and build sustainable communities.
The through-line in her career has been making connections between people and creating a sense of community. As a social worker, Hall had to dispel the stigma that those in halfway houses belonged back in prison and were unwelcome in their surroundings–even in their home communities. She later identified that college campuses could feel just as exclusionary, and institutions must make a deliberate effort to cultivate belonging.
Universities have opportunities to consider the needs of the students by engaging their voice in the planning of space. Spaces impact their users and should reflect the people that inhabit them.
"Unless people overtly tell you that you're welcome in a public space, you don't know that it is for you," Hall said. "Four years on campus is a relatively brief time. Students should not have to spend their first year on campus trying to figure out what spaces they should access."
Upon arriving at Penn in 2017, Hall began examining physical spaces at the University of Pennsylvania. Her efforts to reimagine space and place, through the lens of inclusion and belonging, helped craft University Life's mission and strategic vision of inclusive space and place.
One of the most prominent projects is currently underway: a collaborative re-envisioning of The Arts, Research, and Culture House (ARCH) on 3601 Locust Walk. Slated to re-open in Fall '22, The ARCH will fully accommodate the Cultural Resource Centers (CRCs), providing more communal, academic, and event space for its affiliated student organizations.
Hall's efforts are ensuring that University Life is creating culturally responsive settings for its diverse student organizations. Students should be able to walk into The ARCH and "not just see themselves in the space." Instead, she said the space should be responsive to their individualized needs.
The enhancements are part of a greater effort by University Life to advocate for facilities that are accessible and inclusive of various perspectives. The quality and adornment of spaces has a strong influence on the students' experiences. The ARCH will create gathering spaces that meet students' needs and evolve over the course of their time.
Reimagining Student Agency
A significant aspect of the ARCH expansion project was the centrality of student voices in the process. University Life and the Office of the Provost worked with representatives of the Asian Pacific Student Coalition, Latinx Coalition, Umoja, Natives at Penn, as well as the Undergraduate Assembly, to the planning table to make recommendations around a variety of structural, operational, aesthetic, and physical improvements.
"The philosophy of space and place that University Life provides is giving students agency over the spaces they occupy," Hall said.
A recurring theme of the students' recommendations was ensuring that spaces were student-centered and supported community building among the diverse student populations and CRCs that access the facility. They advocated that each floor should evoke a different tone. The ground floor will be reserved for a student-centered place to meet and celebrate culture and identity. Their recommendations suggested the first floor be designed to "create a collective ambiance of community among BIPOC students."
Aesthetically, the students encouraged design elements that create a unique and modern space that captures the cultures represented in The ARCH. Vibrant murals and interactive walls will celebrate the cultures that call The ARCH home.
"They came at it very professionally," Hall said. "They were particularly good at it. We were meeting with the furniture designer, and the color palette that they recommended is right on point."
Hall said Penn students were focused on integrating their academic experience to The ARCH. They recommended that the second floor of the building be primarily oriented towards creating shared working spaces, known as Group Study Rooms (GSRs), like those in Huntsman Hall and Biotech Commons. The building will help link academics and diversity by featuring a cultural library with literature featuring BIPOC authors, large event space for community building, and classrooms for formal courses. The ARCH's third floor will house workspaces for CRC staff.
Built in 1927, The ARCH was known as The Christian Association until a 2014 restoration revitalized the historic, late-Gothic Revival structure. The Center for Undergraduate Research and Fellowships (CURF) shared the space with cultural resource centers and will relocate in time for the Fall '22 semester.
The ARCH will reopen in Fall '22 as it transitions into a multicultural center. Based on the student working groups' recommendations, physical improvements to the building will be made over the course of the 2022-23 academic year.
The second phase of the revitalization will be an assessment of how students use the space throughout the fall and spring semesters. "Students never had the whole building," Hall said. "There will be parts of the building that CURF occupied that they never had access to." By Spring '22, the planning committee expects to be able to identify what works and does not work as the CRCs evolve with more space.
"In all of our spaces, we are making sure we consider the needs of our undergraduate and graduate students, both in terms of formal programmatic use and their needs for interaction and building relationships across identities," Hall said.
Through strategic partnerships, operational excellence, and a cohesive vision, each project brings the team one step closer to the shared vision of creating inclusive spaces and cultivating a sense of belonging. Reimagining the ARCH is a transformational project and a shining example of how the Strategic Planning & Operations team manages the full life cycle of University Life's strategic initiatives.
Philadelphia Gayborhood with Malik Muhammad
In celebration of Pride Month, University Life took a trip to the Philadelphia Gayborhood with Malik Muhammad, Associate Director of the LGBT Center, to learn about the history of the neighborhood, explore Malik's favorite spots, and visit a few LGBTQ+ owned small businesses.
Jay Monahan | Interviewer & Editor
Steve McCann | Videographer
345 S 12th St, Philadelphia, PA 19107
Giovanni's Room is the oldest, very best LGBTQ & Feminist bookstore in the Country and Philadelphia's number 1 source for LGBTQ fiction & non-fiction books.
243 S Camac St, Philadelphia, PA 19107
Tavern on Camac is a gay-friendly tavern known for its piano singalongs & dance parties.
Throughout June, University Life will celebrate Pride Month with stories and interviews of influential figures in Penn's LGBTQ community.
Sharon Smith, AVP for University Life Receives Penn Dental Honor
As part of Penn Dental Medicine's commencement ceremony for the Class of 2022, the school recognized Sharon Smith, Associate Provost for University Life, with a special certificate of appreciation for her service to students. In her role at the University, Ms. Smith oversees a number of campus support programs and endeavors to holistically serve students navigating Penn. 
Presently a member of Penn Dental Medicine's Committee for Cultural Growth, Ms. Smith supports Penn Dental Medicine students and the administration in wide-ranging areas, including assisting with issues such as personal and academic emergencies, food insecurity, provision of urgent medical care, and providing assistance to the school's international students.
Ms. Smith came to Penn in 1987, serving in various leadership positions throughout campus, including the Penn College Achievement Program, New Student Orientation, and Open Expression.  She was instrumental in helping to create the mission and framework of the Student Intervention Services Office (SIS), which leads Penn's response to emergencies and critical incidents involving students.
"For over 20 years, Sharon has been a dedicated and passionate supporter of Penn Dental Medicine students," said Uri Hangorsky, Associate Dean for Student Affairs. "She has selflessly made herself available to work with us not only during regular working hours, but also during nights, weekends, and major holidays. She embodies the very best humanity has to offer—wisdom, compassion, integrity, and dedication."
Embracing Intersectionality: Sean Massa
Awarded prestigious foreign diplomacy fellowship, Alumnus credits a sense of belonging found in Penn's LGBT Center, GIC, and Native communities.
Before Sean Massa (C'15) could apprehend the intercultural understanding needed to launch a career in foreign diplomacy, he first had to discover his own individual identity.
There was an immediate impact the day he set foot on the University of Pennsylvania campus. Massa began a journey into understanding his own self as a queer student with Native, Pacific Island, Latino, Asian, and Eastern European heritages — the intersectionality of his various identities.
Through acknowledgement of the different forms of discrimination faced as a diverse and queer student, Massa found a sense of belonging in University Life's cultural centers that helped him thrive.
"[Sean] got involved in everything. He was thoughtful and always interested in meeting different people and understanding their perspectives."
It is no coincidence that his personal exploration began on the steps of the Greenfield Intercultural Center. The GIC became a home away from home during his time in Philadelphia. Through inclusive spaces and programming initiatives, as well as relationships formed with Penn students from diverse backgrounds, the GIC made a particular impact on his personal development as a multiracial student.
"It's easy to feel like you're not enough of one thing or the other – you're not Latinx enough, you're not Asian enough, you're not whatever enough," Massa said. "The GIC people came from these vastly diverse backgrounds. No matter what you were, you were accepted, and you belonged. Not only that, but they also took that angle to other forms of identity beyond ethnicity, like religious identity or socioeconomic background."
Embracing his identities forged his passion for intercultural engagement and global affairs that shepherded his career path as a diplomat.
Massa graduated from Penn in 2015 with a major in Health and Societies with a concentration in global health and a minor in philosophy. He was a baccalaureate speaker, in addition to serving as a representative on the United Minorities Council.
Massa grew up in San Jose, Calif., a multicultural city that in many ways was a melting pot that was much like his own. He identifies as Mexican and Apache on his maternal side, and Japanese, Hawaiian, and Lithuanian on his paternal side.
Almost immediately, he was drawn to Natives at Penn, a student organization that represents indigenous students. On his first day on campus, Vanessa Iyua, former associate director at the GIC, handed him a Natives at Penn brochure and a Daily Pennsylvanian article on its annual powwow. In many ways, Massa and four other students were being handed over the leadership. Together, they rebuilt the organization, formerly known as Six Directions, from the ground up.
As co-chair, Massa advocated for the Native community on campus by promoting the recruitment and retention of Native American, Native Hawaiian, and Native Alaskan students, as well as connecting students, alumni, and allies in cultural awareness events. Natives at Penn reorganized a room on the third floor of the GIC that they could call their own space, complete with a library and meeting room. The organization hosted a campus powwow that celebrated traditional and modern indigenous culture with singing, dancing, music, food, jewelry, and clothes.
"We were a community," Massa said. "We looked out for each other. We came from different backgrounds – some of us came from reservations, but most came from the big cities."
His involvement expanded to a vice president position on the Ivy Native Council, a consortium of the campus organizations across the Ivy League. In that role, he learned from different indigenous groups and understood best practices for addressing certain issues facing those communities. Ivy Native Council met with the National Congress of American Indians to discuss the name controversy with sports mascots, specifically for the Washington football team.
Massa was also involved with the Penn LGBT Center. He was a participant in the LGBT mentorship program and co-chaired the Queer Christian Fellowship.
Massa's interest in global affairs was piqued by a unique semester-long study abroad opportunity through School for International Training's International Honors Program. He studied global health and community health in Vietnam, South Africa, and Brazil.
"That was a very pivotal moment for me in terms of getting that international exposure that I had not been introduced to before," Massa said. "It really changed my perspective upon coming back and then beyond Penn."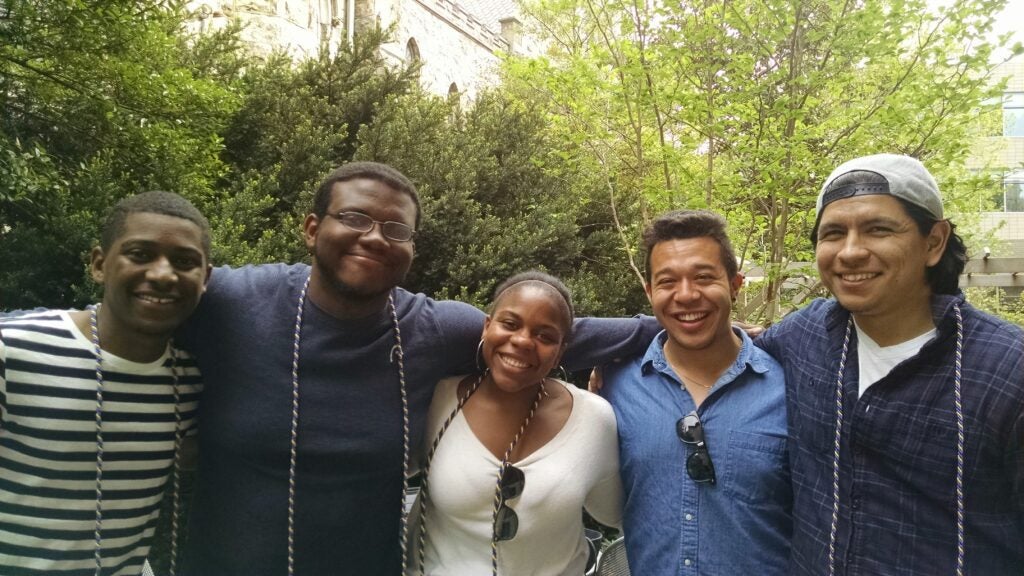 Director of the GIC Valerie De Cruz first welcomed Massa through his involvement with Natives at Penn and made him feel welcome in his first year. Like many minority students that arrive on an Ivy League campus, Massa, who also identifies as queer, felt imposter syndrome. Massa used De Cruz as a resource anytime he was processing issues of belonging or personal identity.
"She reminded me that I deserve to be there," Massa said. "When I felt unsure of my own kind of place in the Native community because I am an urban Native, as opposed to someone that grew up on a reservation, she reminded me of my value. She even encouraged me to come out even before I fully accepted who I was.
"She recognized that and nurtured me to fully and authentically be who I am."
De Cruz had the kind of warmth, attentiveness and caring that allowed her to listen to students in a way that makes them feel heard. In a lot of ways, Massa added, she saw through to the distinct parts of his identity.
Massa grew up in a conservative household and attended a private Christian school for most of his childhood. He took a course called iBelieve: Interfaith Dialogue in Action, a partnership between the GIC, Chaplain's Office, and the Graduate School of Education. iBelieve was an experimental seminar that took students from various religious backgrounds and fostered a dialogue about different topics ranging from conversion to interfaith marriage.
"Most students come to college with what they were raised to believe," De Cruz said. "Sean immersed himself in various interfaith groups. He expanded his worldview, and it allowed him to think how he would see himself in the world."
Massa credits Steve Kocher, Senior Associate Chaplain and Director of the Spiritual & Religious Life Center (SPARC); and Kathleen Hall, Associate Professor of Education and Anthropology, for providing a safe space to confront challenges to his own beliefs.
"That was eye-opening to me in terms of expanding my own worldview and my own understanding of what faith meant to me and my identity," Massa said. "In a lot of ways, I had grown up in a background that did not fully encourage me to be who I was."
He served as an upperclassman teaching assistant for iBelieve. Later, as a Penn alumnus, he continues to make an impact at the GIC by mentoring first-generation and low-income students.
Massa's experiences with the GIC provided him with connections to parts of his own identity that were disconnected to his Bay Area upbringing. He said he felt more grounded in his own Native identity through meeting other students from indigenous backgrounds. Before his sophomore year, he volunteered for College Horizons, a non-profit organization that helps Native American high school students prepare for college. Meeting Native Hawaiians that saw him as one of their own reaffirmed his own identity to his father's Hawaiian upbringing.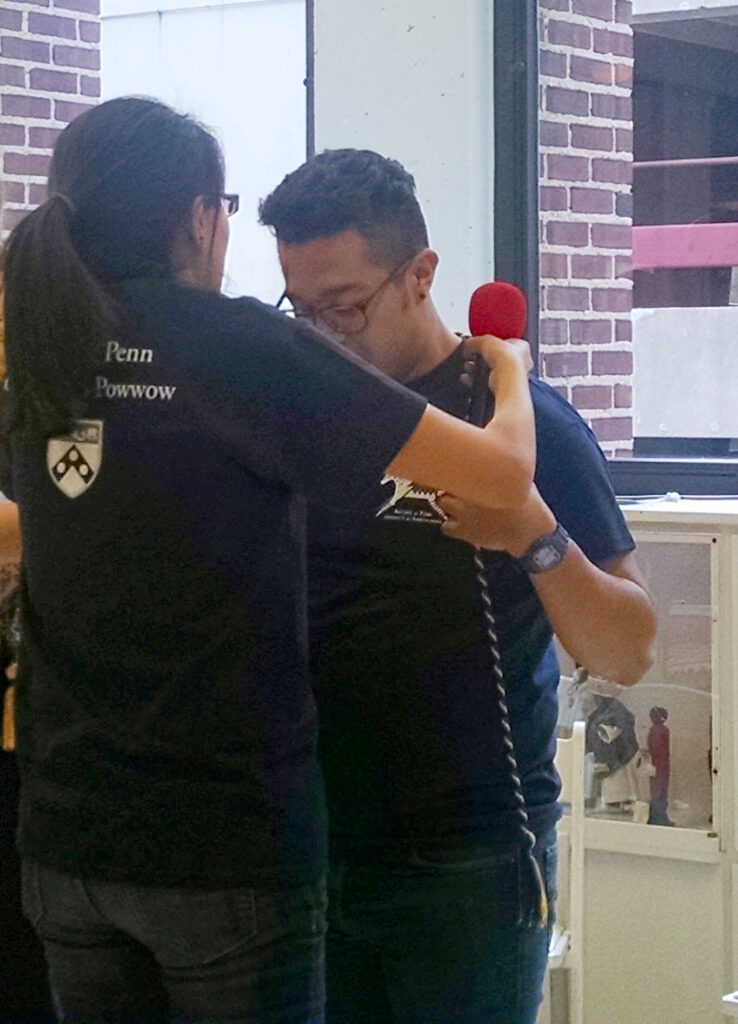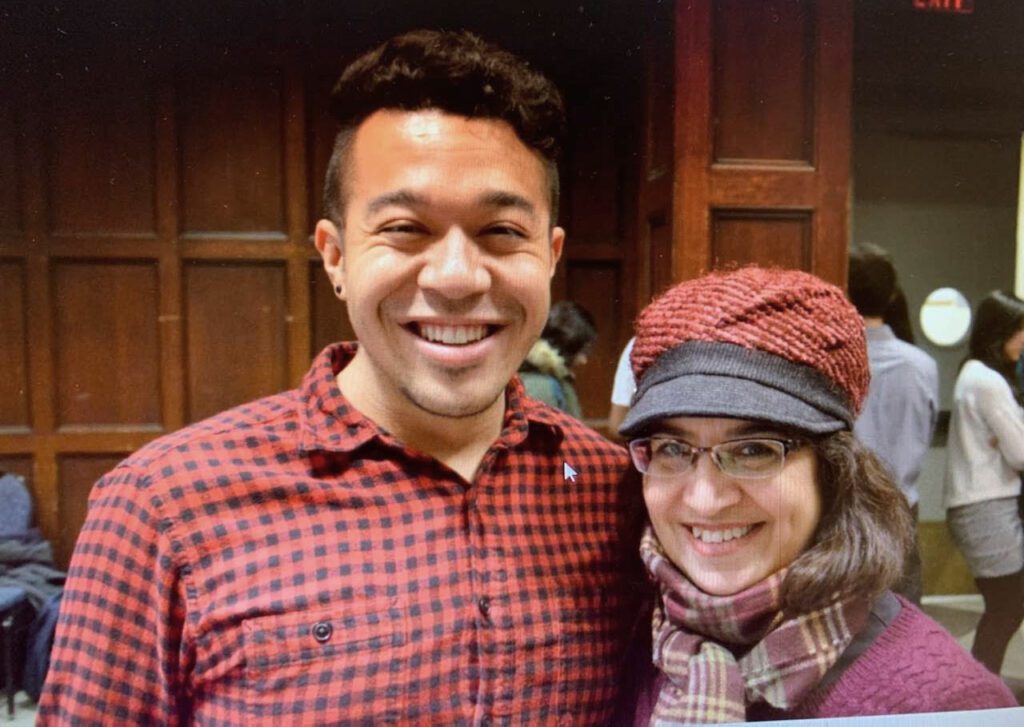 In February, Massa was awarded the Charles B. Rangel International Affairs Fellowship. Funded through the U.S. Department of State and administered by Howard University, the Rangel Fellowship is a prestigious pipeline program for diverse individuals that wish to pursue careers in foreign service.
As a Rangel fellow, Massa will intern with Sen. Dianne Feinstein (D-Calif.). He is excited about the congressional internship with his home state's senator because of her sponsorship of the Violence Against Women Act. Specifically, Massa said VAWA has several provisions that address violence against indigenous and native Hawaiian women.
Massa will intern with the State Department the following summer at a U.S. embassy or consulate abroad to gain boots-on-the-ground experience in Foreign Service. Upon his receiving a master's degree in May 2024, he will begin orientation to become a U.S. Diplomat, a five-year commitment at an international post in either a political or public diplomacy track. Massa hopes to advance democracy, human rights, and peace around the world.
"I've had a lot of time to reflect on what kind of career would best suit me," Massa said. "I realized I enjoy being abroad and navigating the daily challenges of being abroad through foreign languages, problem solving, and adapting. All those things make me come alive."
After graduating from Penn, Massa was awarded a Princeton in Asia fellowship to teach at Atma Jaya University in Yogyakarta, Indonesia, and he interned with the United Nations Information Centre and U.N. High Commissioner for Refugees in Jakarta. He received a Master of Arts in Religion at the Yale Divinity School and Master of Laws in Human Rights at University of Hong Kong. Through his LLM program, he picked up the knowledge and skills to promote LGBTQ rights throughout Asia. His dissertation analyzed the legacy of British colonial anti-sodomy laws' roles in propagating anti-same sex legislation throughout Asia.
His post-graduate experience has also helped shape his career path. At an internship with the United Nations Information Center in Indonesia in 2016-17, Massa met with a mayor to discuss gender empowerment initiatives in the only Indonesian province to practice Sharia.
He moved to Hong Kong in 2018 through a Yale graduate school partnership with the Red Ribbon Centre to conduct research on HIV and ethnic minority and migrant domestic worker communities. Sean also did pro-bono work supporting low-income Hong Kong students pursuing education opportunities in the United States, and he created health and well-being programming with R.U.N. for Refugees, an NGO that works with vulnerable displaced people.
Experiencing Hong Kong's political unrest movement related to a now-scrapped extradition bill has also motivated his aspirations to become a diplomat. Massa has seen Hong Kong's ethos change first-hand: its liberal institutions and values have diminished slowly. Political protests have all but ceased, and citizens are hesitant to speak out or voice their opinions. "It made me more aware of the values that the United States upholds and its platform in the world to promote these values and protect them when they are threatened," he said. "The more I've reflected on it, I wanted to pursue a career that would allow me to make a tangible change in that way."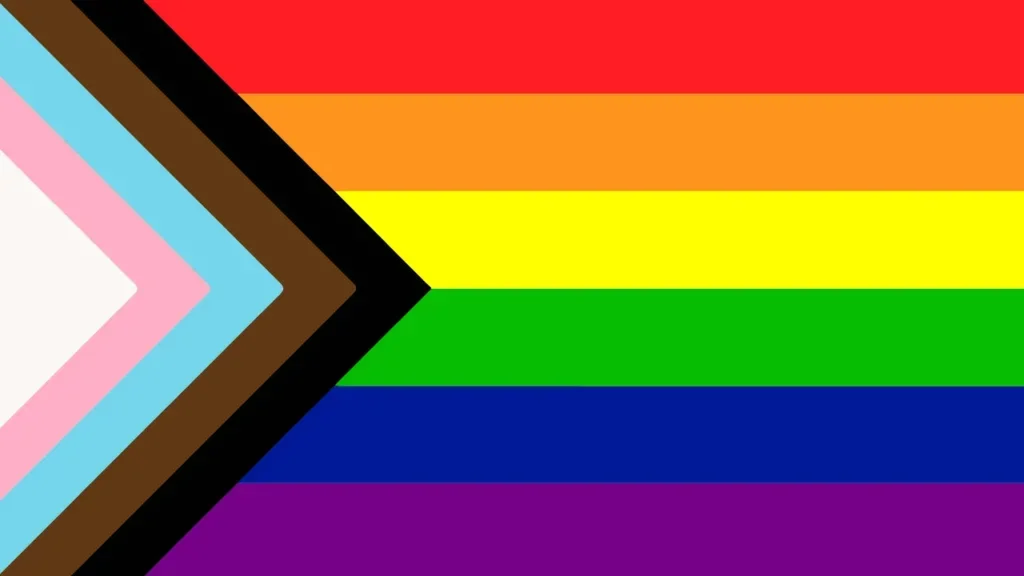 Throughout June, University Life will celebrate Pride Month with stories and interviews of influential figures in Penn's LGBTQ community.
'Selflessness and service'
Most 17-year-olds don't know what they want to do for the next 10 years of their lives. However, May graduates Robert Blend, Allan Cate, and Madeline McAvoy made a commitment back in high school. All three went to Penn on NROTC scholarships, completing their commissioning ceremony on May 14. Later this summer, they will ship out for training and spend at least the next four to five years giving back to the U.S. Navy.
"It's personal development for the service of others," says Cate, a double major in political science and science, technology, and society from Burke, Virginia. "We're told, right now, it's about you. It's about building you up into an officer who's going to lead others."
But there's a switch. Once the students graduate and become active-duty naval officers, it's not about them anymore, Cate says. "It's about the people that you're serving. The people that you're taking care of and managing, leading."
NROTC students are responsible for taking an additional class per semester in naval sciences, in addition to physical training at least twice a week. By the time students arrive at the commissioning ceremony, "they've achieved a ton," says Daniel Westcott, a lieutenant and NROTC battalion advisor. "They're probably the most driven students in any university setting. And they have to be."
Time management is crucial, he says, not just in the day-to-day but also in long-range planning. "They're not just thinking about tomorrow. They're thinking about years from now," Westcott says. "At the end of the day, we are training them to become leaders."
NROTC students can enter one of a multitude of career paths after graduating; Navy option students can pursue Surface Warfare, Naval Aviation, Submarine Warfare, Nursing, or Naval Special Warfare. Marine Corps options can include Marine Corps Aviation or Marine Corps Ground careers.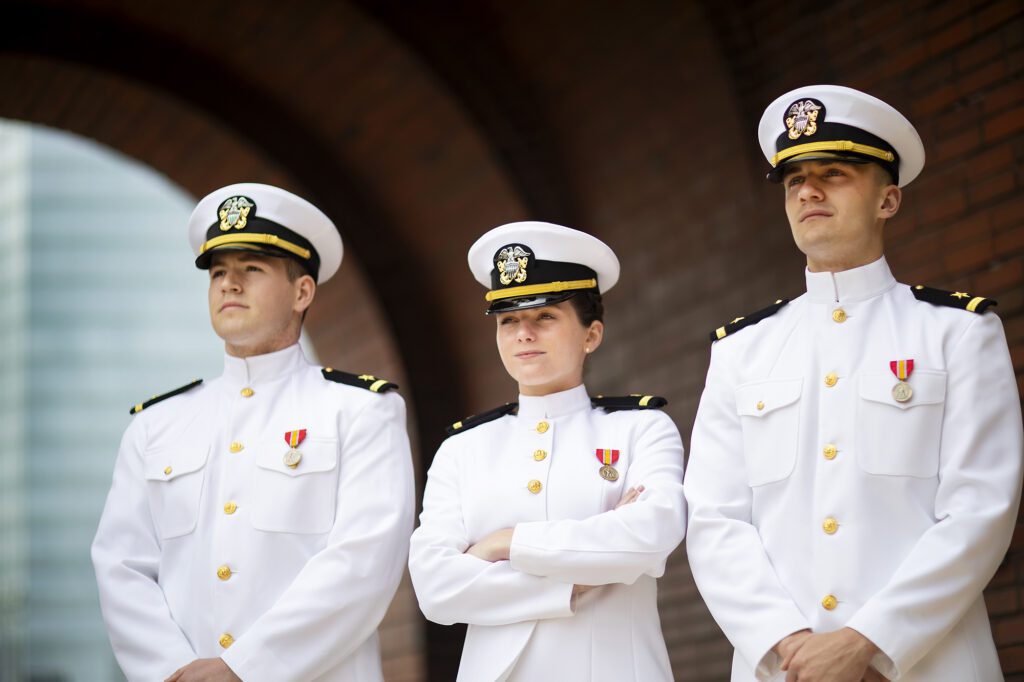 Cate, who will be reporting for the Basic Division Officer Course followed by duty as a surface warfare officer out of San Diego, hopes to follow his naval service with a career in government. He says he is interested in climate security, "preventing troop deployments, preventing state breakdown by kind of fixing things at the source and making areas more resilient to climate pressures."
Originally from Farmers Branch, Texas, Blend will report for basic underwater demolition/SEAL training in Coronado, California, for training as a Navy SEAL officer. He graduated in May from the Wharton School with a concentration in finance and real estate.
Blend fell in love with the idea of being a Navy SEAL. "It's something about the way that they approach life: with two feet first, with no hesitation," he says. "That's the type of person I wanted to be: hard charging, never quitting, resilient."
McAvoy was drawn to nursing. Originally from Fairfax Station, Virginia, she is a caregiver, the one friends turn to. Nursing is oriented towards patient care, she says. "You're able to really give your whole self."
This summer, McAvoy will report to Navy Medicine Readiness and Training Command in Camp Pendleton, California, for duty in the Navy Nurse Corps.
"You're committing to this path, but in a way it has been freeing," she says. Rather than stressing about an acute-care nurse externship, McAvoy has been able to use her summers to complete a community health internship, work as a camp nurse, and even fit shoes at a running store.
She, Blend, and Cate have been "able to kind of play around and explore, without having to worry about the implications for our future careers," she says. "It's weird, because we're on such a straight path, but we were able to do more with a little bit less risk."
For Blend, there was a freedom in this structure. "I didn't have to worry about recruiting and all the classic Wharton stuff," says Blend, who spent the summer after his junior year working at a tech startup.
"I feel like we really got the best deal of both worlds," he says. "I found that the connections and the network that I've been able to make at Penn have been extremely impactful and probably will carry that through my naval career."
The commissioning ceremony is a rite of passage as the students move through their evolution, says Blend. "It's supposed to signify the transition from professional development and working on yourself to now becoming a selfless leader," he says. "Everything from this point forward is not about us but about the people we're leading, and the team and the mission."
Projection and Pursuit: A Two-Fold Meaning of Longing
University Life shares the wisdom of Sam Strickberger, '22 Class Board President and speaker at this year's Commencement Baccalaureate Ceremony. Sam's speech, Projection and Pursuit: A Two-Fold Meaning of Longing, is an inspiring reflection on pursuing your passion.
Penn is honored to have your energy and spirit. Congratulations!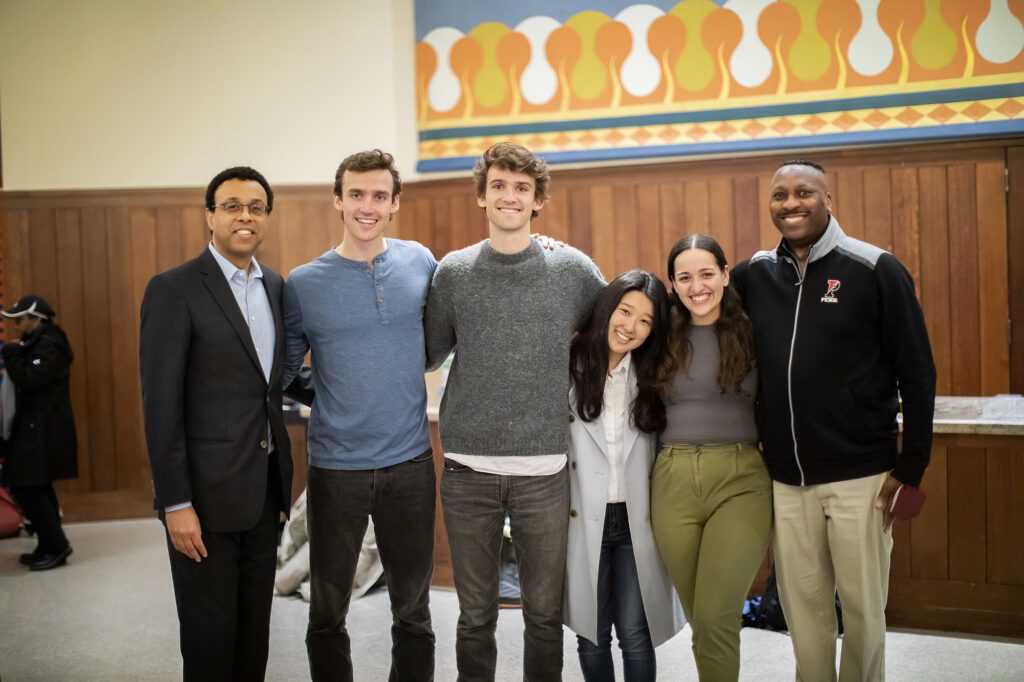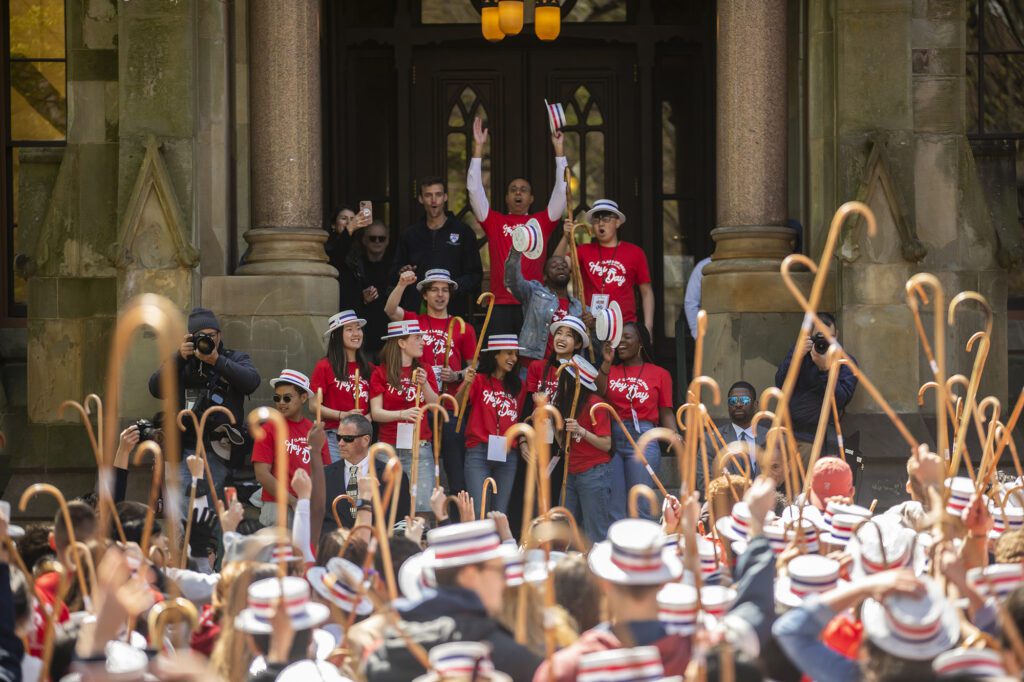 By: Sam Strickberger
Good afternoon, Class of 2022.
I can't believe we are here. The last-minute assignments. The early morning practices. The late-night rehearsals. The rush of Locust. We've made it. In less than a week, we'll walk out of Franklin Field as graduates of the University of Pennsylvania.
But, before thinking about the future, I want to rewind.
Do you remember during NSO when all the gap year kids were talking about how transformative their past year was. And you were like: nobody cares. Well, I was one of those gap year students. And, if you'll indulge me, I'll briefly talk about my gap year.
Prior to Penn, I spent a gap year in Jerusalem studying ancient Jewish texts – practical right – with a diverse group of Jewish Israelis and Americans. It was a pretty privileged time. I had limited responsibilities and was immersed in a place of inherent spiritual meaning. One concept from the year stood out: the idea of longing, seeking to find my home in the world, pursuing my "why."
I started Penn with the nervous excitement that fills much of NSO. It was then that I first encountered the three classic, introductory questions: "What is your name?" "Where are you from?" And finally, the loaded one, "What do you want to do?" I had no idea what to say the first time I was asked it. I thought I had the next four years to figure it out…at the least.
We were a bunch of newly admitted students, who recently wrote in our college apps about being "intellectually curious" at Penn. I thought we came here to begin to figure out an answer to that question. And so, during NSO, when I did come up with my own answers to it, they seemed forced. The question incentivized a predetermined path, maybe even closed-minded projections for the future.
I learned from my experiences in Penn and Jerusalem that there are two conceptions of longing. There is Projection and Pursuit. To project is to think in the concrete, the linear, the practical, that what's-been-proven. It's the you-in-ten-years that you create today. It is a business plan. The business of living.
To pursue is to think in the abstract, the creative, the values-based, the finding-your-why. Hearing the whisper of your inner child. It is an artistic creation. The art of living.
Thinking of our NSO experiences. Projection is the question "what do you want to do?" Pursuit is the question "why do you want to do what you do?" Projection is the what. Pursuit is the why.
I want to give room for both. Not only because both are within me – and I imagine all of you. But because I deeply believe that both are crucial for success and flourishing. Projection without pursuit is an empty way to live; but pursuit without projection is unrealistic for achieving life's goals, meaning, I imagine, we have to know how the world works, have the network, the skillset, the planning, to realize any big visions.
However, I think at places where we find ourselves surrounded by ambitious, brilliant people – places like Penn and likely where we are headed eventually – projection rules the day. So, today, I want to uplift pursuit.
In particular, pursuit is about the power and necessity of choice. "Man is condemned to be free," writes Sartre, a twentieth-century existentialist. We are not free to choose, but we are free to choose, he argues. Did you get that? Neither did I. David Foster Wallace puts it more simply. "In the day-to-day trenches of adult life…There is no such thing as not worshipping. Everybody worships. The only choice we get is what to worship."
And our apparent options aren't all so great. Wallace continues, "if you worship money and things, then you will never have enough. Worship beauty, you will always feel ugly. Worship power, you will feel weak and afraid. Worship your intellect, you will end up feeling stupid."
Worshiping something transcendent, on the other hand – things like justice, love, spirituality – helps guide us. Pursuit is discovering that deeper "why." And projection has its place too: it helps us achieve our pursuits.
Here are a few examples.
As a first-year, Maeve Masterson told me that she wanted to pursue climate justice and while at Penn she wanted to find the skillsets that would enable her to do that best. Four years later, she is still pursuing climate justice and through her education she's planned – or, to use our terminology, projected – how to get there: she gained experience as a leader of Fossil Free Penn and studied environmental science and decision sciences. And she's walking away from Penn with a masters in social policy to continue her pursuit.
I think about other students who pursued justice while at Penn. I think about Mary Sadallah, a dear friend and first-generation college student, who – as Vice President of the UA – distributed nearly $1 million to largely benefit first-generation, low-income students and students of color. I think about Niko Simpkins, who leveraged his love of engineering to encourage, support, and create space for marginalized engineers by reinvigorating the Underrepresented Student Advisory Board in Engineering. The list goes on. So, I'll give you one more example. I think of Sam Pancoe who created the PennGenEq preorientation program to foster an inclusive space for all gender identities on campus.
These successful endeavors of our classmates – and many like them – taught me important lesson. Prioritizing pursuit, and letting projection follow it, is powerful. It can help us to access meaning and even success, however we define it. On the other hand, when projection comes first, when we take the road most traveled without examining it for ourselves, we risk losing track of what we care about most.
Still, valuing our "why," our "pursuit," isn't easy. It's hard and not always possible. It was uncomfortable telling people you were "undecided" as an underclassman. It was anxiety-producing to still be figuring out where to apply for an internship when friends had already landed their "dream job." There is discomfort and anxiety in pursuit.
What's the antidote? I honestly don't know. But, I've drawn some insights from the actions of my twin brother, Max, and my roommate, Alan Jinich, as they took off from school last spring – when I sat through my zoom classes – to crisscross the United States and create an oral history of our generation's covid experiences. Their decision taught me what Penn positive psychologist Karen Reivich confirms through her research. That perhaps pursuit requires three things. It requires gratitude for what we have, curiosity for what can be, and, along the way, favorable judgment for others. Pursuit also requires patience. Patience to wait, to reflect, to do things differently.
So, with the power of our education – our acquired knowledge, skills, community, and yes, that expensive piece of paper called our diploma – we are uniquely positioned for pursuit.
So, I challenge our great class to not get stuck in projection, in worshipping the rat race, the highest paying job, the most prestigious next step. I encourage pursuing our "why" and hopefully connecting it to something bigger than ourselves, something holy, something like justice. As Benjamin Franklin writes at the bottom of every PennToday email: "The noblest question in the world is: what good may I do in it?"
Given the nature of the Baccalaureate ceremony, I want to close with a blessing of pursuit, a blessing which randomly hangs from a corkboard in my childhood home and fittingly was delivered at another college graduation ceremony but in 1985:
"May [we be blessed] with discontent with easy answers, half-truths, and superficial relationships, so that [we] will live from deep within [our] heart[s].
May [we be blessed] with anger at injustice, oppression, abuse, and exploitation of people, so that [we] will work for justice, equality, and peace.
May [we be blessed] with tears to shed for those who suffer from pain, rejection, starvation and war, so that [we] will reach out [our] hand[s] to comfort them and to change their pain to joy.
[And] may [we be blessed] with the foolishness to think [we] can make a difference in this world, so that [we] will do the things which others tell [us] cannot be done."
Thank you so much for listening. A huge congratulations on graduation. We've finally made it.