The 2023 Most Promising Places to Work in Student Affairs
Now in its 10th year, this national recognition celebrates vibrant student affairs workplaces like ours – one in which we are committed to work-life balance, inclusive excellence and fostering a sense of belonging. The selection process focuses on workplace diversity, staffing practices and work environment. The research determining selection uses a web-based survey approach to examine categories such as family friendliness, salary and benefits and professional development opportunities.
It is our divisional goal and ethos that when people have a voice in the process, they are much more engaged and committed to the outcome.
It is our divisional goal and ethos that when people have a voice in the process, they are much more engaged and committed to the outcome.
Penn selected by Diverse: Issues in Higher Education as one of "The 2023 Most Promising Places to Work in Student Affairs"
University of Pennsylvania is a private Ivy League research institution with over 22,000 students, and more than half of them are graduate or professional students. The pandemic propelled the university life division to engage in innovative strategic long-term planning. "This planning intentionally involved every staff member in the entire division, allowing for everyone to have a voice during the planning process," says Tamara Greenfield King, interim vice provost for university life and senior associate vice provost for student affairs. "It is our divisional goal and ethos that when people have a voice in the process, they are much more engaged and committed to the outcome."
ALOK: Scholar-in-Residence
ALOK named first Scholar in Residence at Penn's Lesbian Gay Bisexual Transgender Center
The University of Pennsylvania announced a $2 million commitment to create the first residency, at any university in the United States, dedicated to championing LGBTQ+ communities and scholarship.
The LGBTQ+ Scholar in Residence provides new resources to bring prominent leaders to Penn's campus. The residency will launch this April with inaugural scholar ALOK, an internationally acclaimed author, poet, comedian, and public speaker, whose work explores themes of trauma, belonging, and the human condition. ALOK is the author of "Femme in Public" (2017), "Beyond the Gender Binary" (2020), and "Your Wound/My Garden" (2021), and has toured more than 40 countries over the past decade.
"University Life is deeply appreciative for this impactful gift," said Tamara Greenfield King, Interim Vice Provost for University Life and Senior Associate Vice Provost for Student Affairs. "The Scholar in Residence program complements the incredible work of our Lesbian Gay Bisexual Transgender Center to make visible the experiences of Penn's LGBTQ+ community. We are honored to lead the inaugural program, and we are committed to demonstrating, on a national level, how this program can bolster the LGBT Center's efforts to create inclusive cocurricular experiences for our students."
Penn Violence Prevention hosts consent workshop, continuing efforts from NSO
Penn Violence Prevention hosted a consent workshop on Feb. 22, inviting members of the Penn community to strengthen their communication skills around navigating consent. 
The "Pizza & Fries: Conversations About Consent" workshop was held at Hill College House and facilitated by Julie Millisky, associate director at PVP. 
Participants worked in small groups to build a pizza with ingredients that everyone agreed on before moving on to topics like developing boundaries and navigating consent when substances are present.
"Initially, I was expecting a seminar with many people attending, but it was a more intimate space for sharing, and I think that worked out for the better," Sparsh Maheshwari, a graduate student at the School of Social Policy & Practice, said after attending the event. "My biggest takeaway was that if it's not a confident and enthusiastic yes, it's a no."
Talia Fiester, College senior and student worker at PVP who also facilitated Wednesday's workshop, said that the highlight of the night was seeing that students think about consent beyond just the activities that PVP facilitates. 
"We had a really good conversation on the way that all of the students practiced community care amongst their friend groups," Fiester said. 
Wednesday's workshop was a continuation of consent circles that were conducted during Penn's New Student Orientation in August.
According to Fiester, consent circles work towards making consent a more accessible and approachable topic for first years while also building a culture of consent on campus. 
PVP created the "Conversations About Consent" workshop in the spring of 2022, according to Millisky. PVP offers the option for the workshop to be requested by Penn student groups, organizations, or departments with two weeks' notice. They also offer another workshop, "Supporting Survivors," which focuses on how to best support a friend if they experience interpersonal violence. 
Millisky estimates that PVP will give around 10 to 15 "Conversations About Consent" workshops  throughout the academic year. She added that these workshops have proven to be popular and offer a nonjudgmental space where students can ask questions. 
"At the end of the workshop, hopefully, students feel empowered to navigate consent in their own lives," Millisky said.
During April, PVP is organizing the clothesline project for Sexual Assault Awareness Month, which will give survivors a chance to share their stories anonymously by writing on T-shirts that will be displayed on College Green, Millisky told The Daily Pennsylvanian
Hikaru 'Karu' Kozuma named Vice Provost for University Life
The University of Pennsylvania has named Hikaru "Karu" Kozuma as Vice Provost for University Life, beginning May 1, 2023. Kozuma is currently executive director of College Houses and Academic Services and served previously at Penn as Associate Vice Provost for University Life and executive director of the Office of Student Affairs.
"Karu Kozuma is a highly experienced national leader in university life," said Interim Provost Beth Winkelstein, who made the announcement. "He is well known across our Penn community for his empathy, wisdom, and collaborative skill. He is deeply committed to the engagement and well-being of our students, both graduate and undergraduate, as his own experience encompasses every size and aspect of student life, including his own experience as a graduate student at [Penn] GSE."
"I, along with incoming Provost John Jackson, am deeply grateful to the consultative committee and to the members of our community who participated in the search process for this vital position—as well as to Tamara Greenfield King for her invaluable ongoing service as Interim Vice Provost for University Life. We are confident that Karu will be an outstanding partner to all of us in leading our university life initiatives in the years ahead."
Kozuma—who received the highly distinguished Pillar of the Profession Award last year from the National Association of Student Personnel Administrators—has served at Penn as executive director of College Houses and Academic Services since 2021 and as Associate Vice Provost for University Life and executive director of the Office of Student Affairs from 2010-2018. From 2018-2021, he was chief student affairs officer at Amherst College, overseeing all aspects of student affairs, including residential life, student activities, and academic advising. Before coming to Penn in 2010, he was director of residential programs at Columbia University and spent three years in residential life at Middlebury College. He received an Ed.D. in higher education from the Penn Graduate School of Education in 2015, an M.Ed. in higher education administration from the Harvard Graduate School of Education in 2002, and a BA from Middlebury College in 1998.
A national search for a new executive director of College Houses and Academic Services will begin immediately, with more details to be announced soon.
A mural in the ARCH celebrates Black history
Ornate stone panels decorate the exterior of the late-Gothic Revival building known as The Arts, Research, and Culture House (ARCH) on Locust Walk. Inside, students recharge among the ARCH's stone fireplaces and dark wood paneling. The building is home to three of Penn's six cultural resource groups: La Casa Latina, Makuu: The Black Cultural Center, and the Pan-Asian American Community House.
These groups are supported by Will Atkins, Associate Vice Provost for University Life who focuses on diversity, equity, inclusion, and belonging (DEIB). Atkins works daily with support staff to learn how to create more opportunities for Penn students to connect with their own communities. He also engages with student organizations in the DEIB space. "So much of the diversity, equity, inclusion, and belonging work that takes place across campus happens at the ARCH, along with the other cultural resource centers housed at the Greenfield Intercultural Center, the LGBT Center, and the Penn Women's Center," says Atkins. "In these spaces, students find community, make connections, and discover more about themselves."
At Makuu, Brian Peterson is the Center's director and so much more. He is a manager, role model, connector, and creative collaborator. He was also a powerful advocate for a new mural which is currently installed on the first floor of the building.
The mural, which is up on a temporary basis, is nearly 50 feet long, wrapped on two walls on ARCH's southeast corner, and features several Black Penn alumni who made notable historic contributions to society. The original sketch of notable Black figures, "Cloud of Witnesses," was created by Abdi Farah, a 2009 College of Arts and Sciences graduate, a decorated visual artist, and beloved former Makuu community member.
"We're in Philadelphia, a city that symbolizes freedom, but we have connections to enslaved people and a difficult history," says Peterson. "All of that is represented so well in 'Cloud of Witnesses.' The mural is uplifting, but it's also a reminder of the stories that we still need to tell."
"Many of the people I drew, like Sadie Tanner Mossell Alexander, the first Black woman to practice law in Pennsylvania, or John Baxter Taylor, the first African American to win an Olympic gold medal, moved through unimaginable resistance not only aware, but rather, empowered knowing they were forerunners of this transtemporal community," says Farah. "I hope the accomplished Black alumni in this mural inspire the Penn community for generations to come."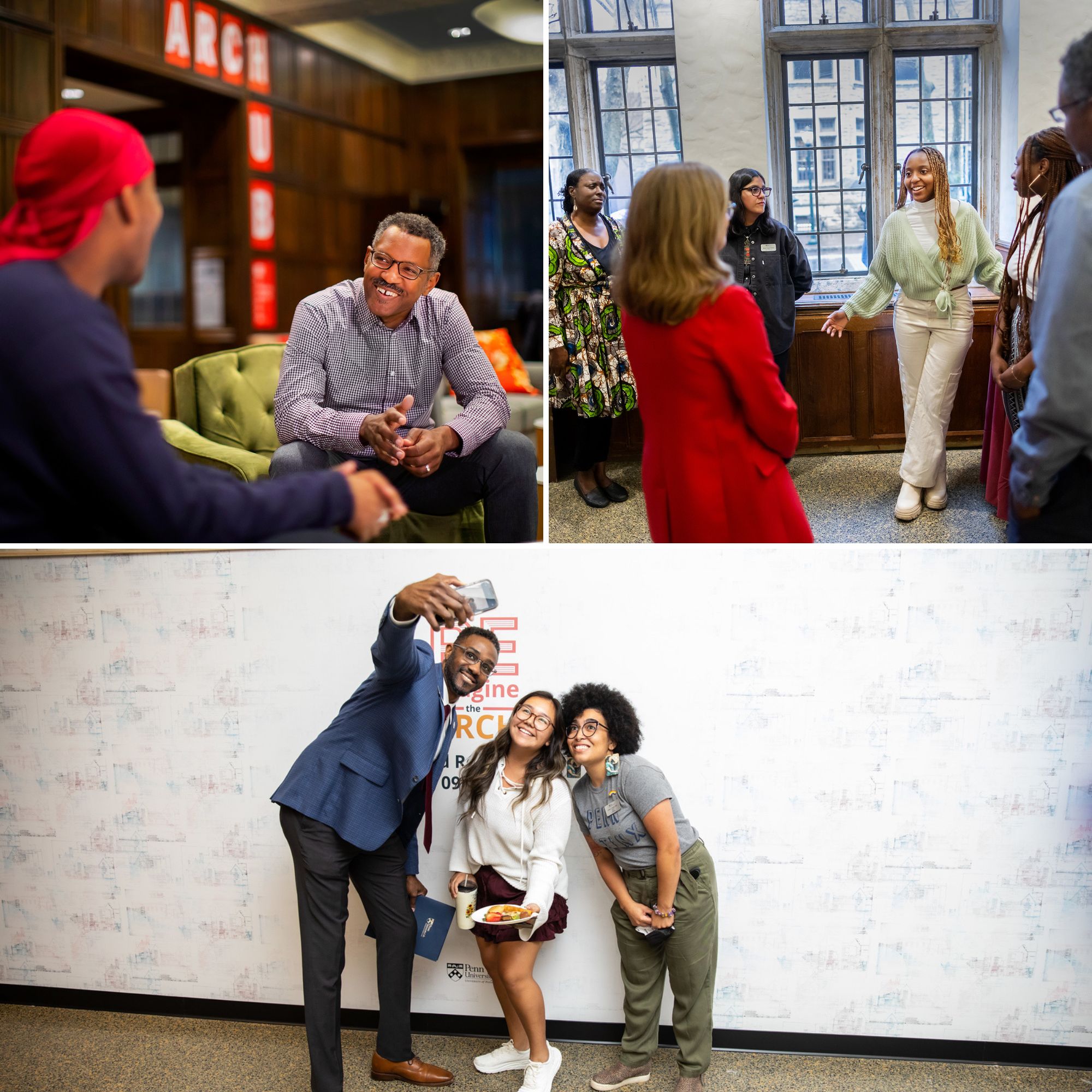 For Peterson, the mural is daily motivation for the unwritten side of his job, like doling out advice and providing a big picture perspective. "I'm centered on student wellness, so helping them succeed is one of the reasons I love being on campus," he says.
One of these students is Tarah Paul, a third-year graphic design major in the College who considers Makuu a second home. Paul was involved in the creation of the mural, lending her graphic design skills and overall creative direction to the project. Other key collaborators were Monolith, the student group that works to showcase and uplift Black visual art, and staff members from Makuu and University Life, including Marjan Gartland, director of creative strategy and design. "The people in this mural were mountain climbers in a sense, which is why we used design elements to visually represent mountains and clouds," says Paul. "I'm looking at this mural with a sense of guilt because I don't recognize some of the names. It makes me wonder what other names I don't know."
Peterson created the key that provides information about each figure pictured in the mural. "[The mural] celebrates Black history, and every day at Makuu my job is to elevate our Black students," says Peterson. "We want to share their stories, showcase their excellence in academics, the arts, social impact, and athletics. Our students are shining stars, but we also want to acknowledge the struggle, the culture, and the lifestyle of Black students at Penn."
Life At Penn: Staff Edition
The Life at Penn Staff Edition highlights our incredible team of advisors and educators, dynamic community builders, crisis managers, and partners dedicated to providing an engaging student experience here at Penn.
Q&A with Elisa Foster, New Director of Penn Women's Center
Congratulations on your promotion to Director of Penn Women's Center. What does it mean to be the new Director of Penn Women's Center (PWC)?
It means so much. I've been working at the Women's Center for almost six years. With the relationships that I've developed with students and colleagues, it means a lot that I can lead Penn Women's Center into the future as we celebrate our 50th anniversary. I want to take the relationships and important memories that I've made during the last six years and amplify them to the next level. 
Tell me a little bit about your background and how you got to Penn.
I started out working in the nonprofit industry doing grant writing and strategic planning for organizations in Philly. I was a consultant working with a few organizations locally. Then I moved into market research, which was an interesting move, but it all kind of tied together because a lot of the clients I was working with were nonprofits and educational institutions. At the time, I was also working on my master's degree in communication studying media representation of women and black communities Nonprofit consulting piqued my interest in higher education because I was working with a lot of universities on how to best meet the needs of their constituents, which has always been a focus of my work.  I was doing projects for schools like Penn State and Lutheran Theological Seminary, thinking about how best to meet the needs of their students and their faculty.  As I was contemplating my next career move, I ended up finding a position at Robert Morris University in Pittsburgh. 
What role did you have at Robert Morris?
Robert Morris was starting a Women's Leadership and Mentoring Program, and I was the program manager. It began with me and the faculty director, starting this program from scratch. It was an important initiative for the University because, unlike most colleges, Robert Morris has fewer women students than male students. 
It is because Robert Morris was traditionally a business school, right?
Exactly. They created this great mentoring and leadership program to encourage more women applicants and to create supportive connections among women students, faculty, and alumni. I worked there for three years, and then Philly pulled me back.  In 2017, I saw the opening for an Associate Director position at Penn Women's Center and said, 'Oh, that's perfect,' because it marries my work supporting women and addressing issues around gender equity. The role at PWC positioned me to do the work on a broader scale, reaching areas of campus and the community that I did not have access to at Robert Morris. I love that PWC is a confidential resource; offering that kind of support to people in our community is important. 
As one of the oldest women's centers in the country, what does it mean, for both Penn and PWC, to celebrate the 50
th
anniversary?
It's interesting because of this moment in time where women and people who identify as gender minorities have made leaps and bounds of progress. People are intentionally making more inclusive spaces. Women are excelling in areas where they were previously underrepresented. But, at the same time, we're still dealing with a lot of the issues that were present 50 years ago. For example, the reversal of Roe v. Wade, which we should have been acknowledging the 50th anniversary of this year, is something that I think a lot about. We thought we were further ahead with issues around reproductive justice. It feels like we are taken right back to 1973. It's been interesting to reflect on how far we've come but how much more work we must do. 
What is the history of the PWC? Who founded it? Why was it established back in 1973?
The Penn Women's Center was a result of student, faculty, and staff activism right here at Penn. There were a series of sexual assaults happening on campus. Women didn't feel safe where they were receiving their education, where they were teaching, where they were working. In the Spring of '73, there was a sit-in at the President's Office, and they had a list of demands. One of those demands was a Women's Center that can offer resources to students. One of the other demands was a Women's Studies Program, which is now the Gender, Sexuality, and Women's Studies program. Another demand that has had a lasting impact was the creation of the Department of Special Services, housed in the Division of Public Safety. Penn Women's Center started out as an administrator in an office, and we've grown. In 1996, we moved into the house here on Locust Walk. Since then, we've been able to add to expand the resources and provide   support to student groups.  
Can you reflect on how PWC's role on campus has changed over the past 50 years?
A big part of what we have done in the last few decades has centered on gender equity, and inclusion of all gender identities. We want to make sure that, regardless of who you are, you know that you come into the Women's Center and receive care and support. That's one thing that's been really important! Especially including and uplifting our trans and nonbinary communities. We also continually work to bring in communities of color, who historically have felt isolated from women's movements throughout history to make sure that everyone has a place here, and they can receive support. We're called the Women's Center, and that has always been central to the empowerment and upliftment of women. But we also want to make sure that Gender Equity is at the foundation of what we do, and that our approach is intersectional. 
What are some of the traditional programs and services that you provide at PWC?
One thing that has been consistent is that PWC is a confidential resource for students, staff, and faculty. Most often, that applies to people who experienced sexual violence and/or who experienced gender-based discrimination. But it also expands to a myriad of interpersonal situations: advising around conflicts with friends and classmates; dealing with health issues; trying to figure out where to go, what their next step is, what resources are on campus — we call it Options Counseling. We don't provide counseling in the traditional therapeutic sense. We're here to listen, validate an experience, answer questions, and then lay out the options that exist on- and off-campus to address whatever challenge or concern one may have. We've always worked with student groups and student organizations. We've worked with many groups throughout the years who need advising support, or just need mentorship or a home base on campus. We've been involved in a lot of the conversations around representation on Locust Walk and making sure that students of marginalized identities have a space to feel safe in the middle of campus. PWC is very privileged and fortunate to have this house, right in the middle of everything, but I know everyone doesn't have that. We offer space to communities and student groups to support their needs, advocate for issues they feel are important, and open our doors to anyone who needs a safe space on campus – whether it's to talk to a staff member in a confidential setting, attend a wellness program, or nap on the living room couch in between classes. 
What has been planned for PWC's 50
th
anniversary celebration?
We're still in the early stages of planning. First, we are going into our archives and updating the records because during the 40th anniversary, we did an archive display and we now have another decade of programs and accomplishments to add. We're working with University Life's Strategic Planning & Operations team to digitize PWC's archival records. We've been working with our student team to get everything organized. The archive project will be important because it will highlight the timeline of Penn Women's Center's origins, beginning with photos and Daily Pennsylvanian articles.  It will also highlight everything that's happened and evolved over the past 50 years. For the 40th anniversary, we also started a video project called the Voices of Change. We'll be doing some more of that oral history work to make sure the voices of PWC's community are captured. We will kick off the celebrations with a program during Homecoming this fall. We will also co-sponsor a symposium organized by Gender, Sexuality, and Women's Studies in Spring '24 to celebrate both of our 50th anniversaries. 
That sounds so exciting. As you enter the Directorship, what are some of the challenges that PWC faces? What are some of the expectations that you have moving forward?
 A lot of universities are contemplating the same questions as they imagine the future of their women's centers. Some centers have changed their names, transitioned into centers for gender equity, and some have combined with their institution's LGBTQ+ center. As director, I want to determine what the next best step is for PWC at Penn. I want to listen to and engage with our community and figure out what that means. I look forward to doing a listening tour and focus groups, having conversations with our students, alumni, staff, and faculty. We want to make sure we're acknowledging the experience of people who have been coming to the center for many decades, but we also must ensure that we're meeting the current needs of our students and figuring out what that balance looks like for a Women's Center at this particular point in time. I'm excited to embark on this journey but it's a very difficult question and challenge to solve. That's what I am most excited for. On top of that, I am excited to continue building our collaborations with students and many campus partners like Penn Association for Gender Equity, Wellness, Penn Violence Prevention and our fellow Cultural Resource Centers.  
Penn Women's Center Supports Black Girls Literacy Project
Sophia Parker looked at the array of photos of Black women in front of her, thinking carefully. The 16-year-old from North Philly picked up one of a middle-aged woman dressed to impress, and another of a younger woman with her family. Parker then told the other girls participating in the Black Girl Literacies Project last fall why she was drawn to those images, she recalled.
"When I get older, I want to see myself being a classy woman with my pearls and just being happy with life, knowing that I succeeded in some type of way," she said. "One day, I would like to have a family and see [them] grow and be successful."
The other girls did the same that day, using the photos to talk about how they saw themselves and what they wanted out of life. It was a different kind of practice than Parker had ever heard of, but over the course of several weeks in the program, she came to understand herself better.
"It gave me a new outlook on ways to love myself," she said.
The Black Girl Literacies Project is a free program for Black girls in Philadelphia, where participants explore different ways of loving themselves. Registration is open for the project's Spring cohort, which begins on Feb. 15 and meets every other week. The program is for Black Philadelphia girls ages 14 to 18, and meets at the Penn Women's Center, but also holds additional sessions at places such as the Colored Girls Museum in Germantown.
Barrett Rosser, the creator of BGLP, is a doctoral student at the University of Pennsylvania after previously working as a Philadelphia school teacher for over 10 years. She started the project in 2020 as part of her doctoral dissertation. "[Black girls] sit at the intersection of racial and gender [oppression]," she said, explaining why it is essential for Black girls and women to practice self-love.
New Penn Violence Prevention Director Talks to the DP About Working Towards the Greater Good
Two months into her tenure, newly appointed Penn Violence Prevention Director Elise Scioscia spoke to The Daily Pennsylvanian about her goals.
Scioscia, who began her tenure on Dec. 7, was selected for the position after a nearly year-long nationwide search prompted by the departure of former Director Malik Washington in January 2022. PVP serves as Penn's primary resource for students experiencing interpersonal violence, including sexual violence, relationship violence, stalking, and sexual harassment.
Prior to coming to Penn, Scioscia served for 11 years at Women Against Abuse, Pennsylvania's largest provider of services for people experiencing domestic violence, where she undertook extensive responsibilities from organizational strategic planning, operational management, public policy to prevention education work.
Scioscia told the DP that her major goal at PVP is to leverage the abundant resources available at Penn to "deepen the work in primary prevention and starting and stopping violence before it happens altogether."
Penn's Approach to a "Career Everywhere" Model
Filmed at the annual National Association of Colleges & Employers (National Association of Colleges & Employers) conference, Michael DeAngelis, Senior Digital Resources Manager & Co-Host of CS Radio, shares Career Services' philosophy of Career Everywhere.