Inspiring Graduate Student Success
For the first time in University of Pennsylvania history, eligible need-based students at all 12 University of Pennsylvania graduate schools have access to apply for financial assistance for unpaid or underpaid summer internships. 
Internship funding was a recurring need that Keshara Senanayake J'23 kept hearing in conversations with fellow students. It became clear to the former Graduate and Professional Student Assembly (GASPA) Vice President of Programming that disparities existed between the schools. While some schools featured robustly funded internship programs thanks to decades of significant alumni support, others had students who required support for career-building summer opportunities.  
In response to this recurring need, GAPSA generously gave a $700,000 gift to Career Services to establish Penn's first university-wide Graduate Summer Internship Program. Over $200,000 of the gift went to immediate disbursement this past summer. The remaining $500,000 will be put into a permanently endowed fund to provide continual financial support for Penn graduate students.  
The Graduate Summer Internship Program aims to defray costs associated with the summer experience, encompassing travel expenses, living costs, and other related expenditures. The funding amounts are determined based on the internship's career development value, duration, and identified needs of students. The available funding levels that can be awarded will be determined on a yearly basis. 
"When you hear about a problem it just makes sense to do something about it. We chose to create this fund, in hopes of immediately supporting students this past summer and to create the momentum to structurally address this issue," said Senanayake, a recent graduate of the Carey Law School. "For a long time, we've heard this was a problem, but there was no data to back it up. Now, we can collect data about the need and hopefully encourage alumni to support this initiative with the newfound tangibles." 
As the governing body for the approximately 13,000 Penn graduate students, GAPSA is responsible for funding each of the 12 schools through student groups, events, and initiatives for student success. Due to the pandemic halting several of its programs, GAPSA had accumulated a significant amount of carryover funds.  
Director of the Graduate Student Center Meredith Wooten raised the idea that GAPSA could address the lack of internship funding for graduate students. Senanayake found that Career Services offered a Summer Funding program that helps undergraduates take advantage of impactful internship opportunities that are beyond their financial resources. In late February, board members met with Career Services representatives to install a similar initiative for graduate students.  
GAPSA quickly passed a resolution to create the Summer Internship Funding Program, representing the largest gift the organization has ever provided. Senanayake credited the GAPSA assembly for recognizing the need to provide resources to better the lives of graduate students.  
"I am a firm believer that no student should be denied opportunities because of a lack of financial resources," Senanayake said. "Internships are a prerequisite for career and professional development, and a number in your bank account should not limit your potential. I was able to attend Penn because of the generous support of alumni and the school's moral obligation to reduce barriers for others.  
"Paying it forward is instilled into the Penn DNA. I see it in our students, our alum, our trustees, our faculty, and our staff."  
Paying it Forward
In its first year, the Graduate Summer Internship Program extended financial support to 71 graduate students representing eight graduate schools. Among them, the School of Engineering had the most recipients with 32 awardees. Following closely behind, the Graduate School of Education had 13 students benefiting from the program. Meanwhile, the School of Arts and Sciences, School of Social Policy & Practice, and the Weitzman School of Design each had seven students selected.   
"The summer experience available to students like me, coming from a First-Generation Low-Income background is nothing short of remarkable," School of Engineering and Applied Science graduate student Ruohu Lin said in her summer blog. "It is an opportunity to gain invaluable industry experience that will undoubtedly shape the trajectory of our careers. As a budding software engineer, the chance to immerse myself in a real-world tech environment was a dream I eagerly seized upon." 
A demonstrative need for internship funding for international students became apparent to Senanayake in his conversations with GAPSA peers. Inflation, currency devaluations, and various geopolitical, natural, and economic crises have exacerbated the financial struggles associated with living expenses during underfunded or unpaid internships.  
Forty-six percent of the inaugural Graduate Summer Internship Program awardees were international students.  
Director of Graduate Career Initiatives Joseph Barber highlighted that Penn Career Services received at least 10 applications from recent mothers or parents, some of whom were supporting several young children. He said this situation is more unique to the graduate student experience, emphasizing added costs associated with balancing an internship experience with finding and paying for childcare.  
Right People at the Right Time 
The Graduate Summer Internship Program's rapid launch was made possible through the collaborative efforts of GAPSA and Penn administration.  
Senanayake credited Barber and Executive Director Barbara Hewitt of Penn Career Services for seamlessly materializing the initiative. He said they were both very receptive to graduate students' needs and made connections across campus to quickly get the program available for the summer.
"Both have spent countless hours meeting with key stakeholders across the University to bring the program to life and have been advocates on the issue for years," Senanayake added. "This initiative is a testament to having the right people at the right time."
Career Services and the Graduate Student Center worked collaboratively to encourage GAPSA to provide meaningful support for graduate students. Barber noted that the Graduate Student Center laid a solid foundation for the Summer Internship Program's success due to its strong relationships with GAPSA and their long-standing commitment to support the professional growth of graduate students. The Graduate Student Center shared valuable insights with Career Services about the funding application challenges experienced by graduate students.
Led by both Wooten and Executive Director for Graduate Education and Initiatives Anita Mastroieni, the Graduate Student Center spent countless hours and energy advising GAPSA, supporting their initiatives, and building strong relationships between student leaders and staff across campus. In particular, Wooten played a pivotal role in raising awareness about internship funding disparities and guiding GAPSA leaders throughout the entire process.
"Their feedback helped shape the proposal into something that could actually happen," Senanayake added. "The staff at Penn University Life care deeply about the graduate student experience, and for that, I, and countless others, are incredibly grateful. "
Now, as an alumnus, Senanayake is comforted knowing that this fund will endure indefinitely, yet his ultimate aspiration is to inspire fellow alumni to champion programs and initiatives of this nature. The primary objective of this program is to create momentum in this space. GAPSA contributed generous donations toward establishing a perpetual endowed fund. For the program to persist and flourish, the indispensable backing of alumni and donors is crucial. 
Read about graduate student summer internship experiences on the Penn Career Services Summer Funding Blog.
The summer internships were game changers in the students' career aspirations.
They included:
behavioral specialist internship, Center for Utilizing Behavioral Insights for Children at Save the Children
jet propulsion internship, NASA
international education development internship, UNESCO's International Institute for Education Planning in Dakar, Senegal
programming internship, SciFeCap
wildlife medicine internship, WildCare Oklahoma
policy analyst, Research for Action
software engineer, SkyIT
architecture heritage internship, Indian National Trust for Art and Culture Heritage, New Delhi
intercultural communication specialist with refugees and asylees, Nationalities Service Center, Philadelphia
architecture internship, MASS Design Group, Poughkeepsie, N.Y.
backend software developer, Roamer
AI Development Intern, Mentorz
Archeological and Heritage Preservation Internship, Al-Hiba Publication Project, Lagash, Iraq
Transit Strategic Planning and Analysis internship, SEPTA
Educational Planning and Policy internship, International Institute for Education for Planning, UNESCO, Paris, France
The Art of Expression
Tucked into the heart of campus, across from Fisher Hassenfeld College House, there's a beloved space for members of Penn's performing arts community to express themselves and be together.
The Platt Student Performing Arts House has been serving students since the early aughts by providing critical rehearsal and performance space for dance, music, comedy, spoken word, and other artistic endeavors. In addition to Platt House, the PAC Shop, located at 41st and Walnut, is where students collaborate to create vibrant scenery, props, and costumes for their performances.
"Penn is filled with so many talented performers who are also academically passionate," says Aidan Moon, C'24, a member of the Performing Arts Council (PAC). "Creating amazing shows is a beautiful process."
The Platt House was established thanks to a generous founding gift from Christopher Mario, C'85. Mario wanted to fund a space for the Penn Band, and his gift was intended to inspire support from other donors. Soon after, a naming gift from Julie Beren Platt, C'79, PAR'05, PAR'08, PAR'12, PAR'21, and Marc Platt, C'79, PAR'05, PAR'08, PAR'12, PAR'21 formally established the Platt Performing Arts House. "Julie and Marc Platt are more than just donors. They are an engaged and caring part of our community, and it is an honor to help create and maintain their vision for a warm and supportive home for Penn's student performers," says Laurie McCall, the Platt House Director. "Similar to the Platts' legacy, Mario is an avid supporter of the Penn Band who cares deeply about the wellbeing of the extended Penn Band family. We are indebted to donors like Chris Mario and the Platt family."
The Platts support many areas across campus, but the performing arts hold a special place in their hearts. "Marc cut his teeth at Penn in the performing arts," says Julie, who is currently the Vice Chair of the Board of Trustees and a member of the Penn Live Arts Board of Advisors. "I enjoyed performing as a student, and several of our children have gone on to have engaged lives in the industry. Supporting this part of Penn is an act of gratitude—for our involvement—and for the experiences that were extended to our children," she continues.
At Platt House, something is always happening. It's a place where supportive conversations flow freely between rehearsals, meetings, and shows. And it's very popular—20% of Penn undergraduates participate in the University's performance art offerings. Each year, the Student Performing Arts Night (SPAN) brings together over 50 student groups and hundreds of Penn performers for a showcase ahead of the fall audition season. This year, SPAN will be held on August 31 in the Zellerbach Theatre; alumni and Penn friends are welcome to attend.
In 2022-23, Platt House hosted over 18,125 hours of rehearsals and 24 events in the Lounge and Cabaret Stage. Managing the day-to-day operations at Platt House is a big job. McCall's team includes two Penn alumni: Megan Edelman, C'11, LPS'22, Associate Director, Sara Outing, C'13, Program Coordinator, as well as Amanda Labonte, Technical Advisor in the PAC Shop, and part-time support staff. "Platt House represents so many things," says Edelman. "For students, it's where they might find their friends, their community, their voice. It can be a place to be brave and experiment, to try something new, or to fail and learn from that." Edelman leads a short tour of the Platt House space in this video.
Providing resources to Penn's growing performing arts community at Platt House and beyond is an ongoing priority. "The students and our team at Platt House make it easy to love my job," says Outing. "Our students are talented, and they lift each other up, work through issues, and advocate for one another and their craft."
In addition to the Platts' founding gift, ongoing support has funded key initiatives like performance funds, equipment including pianos and microphones, and "After School Arts at Penn", a program that supports about 40 school-age children each year. The Platt House team also oversees a community ticketing initiative that provides complimentary tickets for student performances to Penn undergraduates, local kids, and community members.
Looking ahead, Penn recently announced a plan to build a $75 million Student Performing Arts Center that will provide even more space and resources for the performing arts community.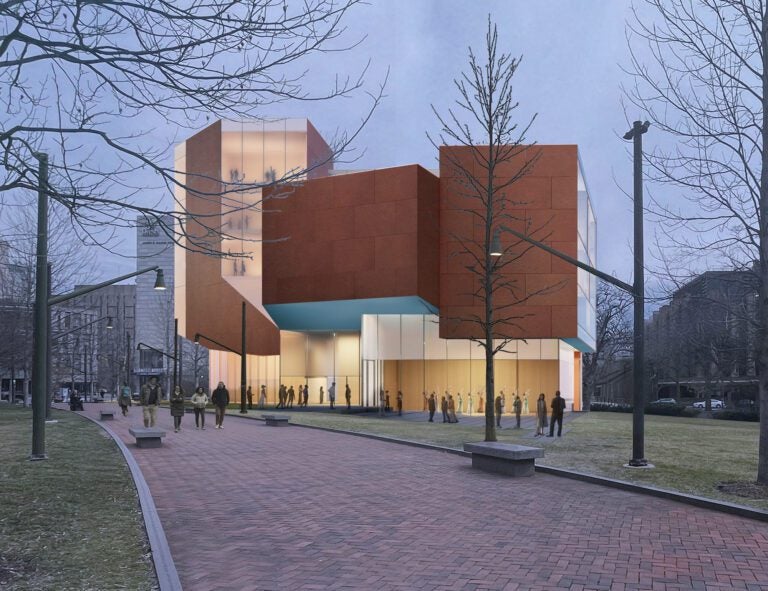 Celebrating Pride Month: A Conversation with Penn's LEAP
To celebrate Pride Month, University Life hosted a conversation with Penn's revitalized employee resource group, LEAP (LGBTQ+ Employees at Penn). The newly formed LEAP leadership team shared their vision and goals for LEAP and spoke candidly about their experiences at Penn. The interview below was hosted in University Life and included the following LEAP Members:
Michael Sievers (he/him/his), LEAP Co-Chair
Dani Trimmer (he/him/his), LEAP Co-Chair
Nik Kroushl (she/her/hers), Communications Co-Chair
Sarah Punderson (she/her/hers), Communications Co-Chair
Emily Delany (she/her/hers), Programming Chair
Sam Lim (they/them/theirs), Internal Affairs Chair
LEAP includes a diverse of representation of faculty, staff, and post docs from schools and spaces across the University of Pennsylvania. Members of the Penn community interested in becoming involved with LEAP should contact co-chairs Michael Sievers (sieversm@upenn.edu) and/or Dani Trimmer (dtrimmer@upenn.edu). 
University Life: Can you discuss how LEAP has been reenergized over the past year?
Dani Trimmer: My previous employer had a similar employee resource group that was stagnant, and we revived it. When I came to Penn, I started asking if Penn had something similar. I kept getting directed to go to Penn's LGBT Center. Unfortunately, the pandemic had forced the group to take a pause. Once we returned to normal operations post pandemic, some colleagues were having conversations about reenergizing the group. We came together and voiced that we would like to see this brought back and shared how an LGBTQ+ group for faculty and staff here at Penn can support community building. We started from a blank slate and have been off to a great start.
University Life: How long has it been since the restart?
Michael Sievers: Last fall of this past academic year, there was a call out to Faculty and Staff and an informal event hosted by the LGBT Center to see if anyone was interested in reviving LEAP. I had expressed some interest in joining and was tapped on the shoulder by the LGBT Center's Malik Muhammad to consider co-leading the effort. There were a couple of other people interested, and he encouraged us to get together and really talk about it. This effort was important to all of us, so we began figuring out how best to revive it. When I was asked if I'd be willing to step up and be a part of this, I said absolutely.
Nik Kroushl: Malik Muhammad and Jake Muscato [in University Life at Penn] have given us guidance and support throughout this process, and they should get a shoutout for being our lighthouse.
University Life: Considering the Penn community, what types of initiatives, policies, and changes would you like to see happen that relate to LEAP's mission and goals?
Emily Delany: The stuff that we've already done has been very rooted in community building. What we're doing now is presenting different social opportunities. We had a Wellness Walk at the end of June to close-off Pride Month. It's just a way to create a social opportunity to meet and greet folks from across campus and offer an opportunity to walk together and have discourse about different things happening on campus, different things happening in our city, as it relates to like LGBTQ+ folks. We just had a social event called Pride and Popsicles. A lot of what we're doing right now is rooted in community building and social interaction. As a queer employee, it's something that I look for in an employer: to be able to create community and feel seen and heard in the space that I function in every day. A lot of what LEAP is trying to do is create spaces of authenticity where people are able to oscillate in this safe environment. Building community is a primary goal for what we're trying to accomplish. We're constantly looking for input from folks about how to build the community we want to see at Penn. That's a big root of what we have been doing so far.
Sam Lim: It's important to contextualize that on a national scale. We came out of a pandemic that directly impacted the LGBTQ community in a disproportionate manner. Being in the city of Philadelphia, sometimes we think we're safe from that, but in reality, we're not. I appreciate that Penn is willing to support this type of work to support our folks. I want to reinforce that, yes, it's community building, but it's also life-saving community building in so many ways and for so many individuals. People don't realize how important small, day-to-day interactions will make a difference for someone living their true life.
University Life: What does it mean for Penn students that might be LGBTQ+ and see that their university supports the people that work for them?
Emily Delany: As someone that works in a student-serving role, I find that often our engineers are yearning for spaces in which they can create these mutual relationships. For example, having a lab partner and feeling as if they will not be misgendered in their lab space. I'm very much an out employee at Penn. Just having that someone that you see in the halls and know that they'll advocate for you, organize meeting spaces, or help you facilitate conversations with faculty members if there was an issue ensued in class. It's important to have that visibility so that folks are able to feel like they can be their best selves while they're here and live up to their highest potential. But it's very hard to do that unless you can see some of yourself and the folks that are working in the spaces, you're actively involved in every day.
Michael Sievers: For me, I've found it important to have a queer person that you can point towards and say they are living their life here and living fully whom they are. It's just important to have that representation.
Nik Kroushl: I work with faculty on building courses, and I've had opportunities occasionally to help them adjust language or think about how certain things are presented. I'll talk about my partner with faculty members, and maybe that gives them an idea to include LGBTQ+ folks when they're creating a case study. It establishes that sense of visibility. If some of the content in classes is a little bit more inclusive, then hopefully it makes a little bit of a difference.
University Life: What does LEAP need from the larger Penn community to advance your work?
Dani Trimmer: LEAP is one of the more prolific staff resource groups here at Penn. Something that I want to see is if we can be a model for other groups out there that want to come together and create their own network by using LEAP as an example. There are plenty of folks out there that are looking for the different resources that Penn offers in these areas. It's not recreating the wheel. We do have these resources at the university. It comes down to whether they have the capacity or the balance to be able to offer them to faculty and staff, and that's something that I see LEAP being able to serve as a model for other resource centers. If there were more Business Resource Groups (BRGs) like ours, we could have partnerships.
Sam Lim: So many professional schools lie outside of the traditional university network. For the law school, we're trying to start up more resources to support our LGBT employees, and there is an active student group. In the next few months, we will go to school to school and get the word out about LEAP. If we can build relationships with the schools specifically, maybe we can find more affordable and accessible ways for us to do those types of monthly rounds across the university so we're not just sticking to one side of the campus.
University Life: What types of goals, initiatives or policies would LEAP advocate for change at Penn?
Sam Lim: This isn't necessarily unique to Penn. Uniformity would be beneficial in terms of how LGBTQ+ policies are implemented. For example, the way that pronouns or gender identity are captured at the Law School is completely different, than other parts of campus, and even between staff and faculty. For best practices sake, any employee who's onboarded at Penn should have the opportunity to self-identify their gender identity.
Sarah Punderson: There's a desire from many staff and faculty to have gender-neutral bathrooms in all buildings, not just those that serve students. That's such a tangible thing. If LEAP can keep bringing that up and make University leadership aware that it's a huge priority for everyone—not just students—that seems like something that's doable and would be an easy win for Penn culture.
Emily Delany: The restroom point is the No. 1 conversation that I have with students. We have folks that are working in buildings on campus that must exit the building they're in, go outside on the street, and access another building that has gender-inclusive restrooms. It's problematic for many of our folks, not only our students, but our faculty, staff, and everyone at Penn. It is rooted in safety, and it should be such a high priority. From a policy and procedure standpoint, gender-inclusive restrooms are such a low-hanging fruit. It's something that's important to our community.
Nik Kroushl: We did a survey to see what people wanted, and one thing that came up was that there is not a centralized or clear process for name changes that cut across all university systems. Of course, there is the perennial problem of a billion different software programs and systems, and they don't all talk to each other.
Sarah Punderson: This is all social justice. It's all about pushing Penn to become the most inclusive employer and representative of Philadelphia residents.
Sam Lim: Actually, Penn has great benefits for queer people, specifically for trans folk who are trying to get different types of procedures and access. But we need to be transparent about those benefits to potential job candidates.
University Life: What has LEAP and Penn's LGBTQ+ community done to allow you to flourish as Penn as an employee?
Michael Sievers: I used to work for a religious-based institution. I had to hide my identity and say that I was not going to be gay. On my first day on campus at Penn, I remember seeing the pride flag on a door, and it made me feel seen. Being able to talk with my coworkers about my life, whether it's who I'm dating or where I am socializing, — it's made a tremendous difference in my well-being. Just being able to live fully as myself. I don't feel I need to censor parts of who I am. That's something that's impacted me here.
Dani Trimmer: Due to the nature of my position here. I talk to lots of people at Penn, and I end up essentially being a cheerleader for Penn because I've talked about how much I love being here. I love the culture that's here. Are we perfect? No, absolutely not. I focus on the good that we do here, and LEAP is one of those things. I can tell you that it fills me with a sense of pride. This discussion that we are having here right now — being able to talk about LGBTQ+ rights at Penn and hear people's reactions from it — particularly hits home for me. It's pretty promising, and it makes you feel like you're actually doing something bigger than you.
Nik Kroushl: This is the first time that I've had queer coworkers in my own department. I've been lucky that I've been in education, places where generally people are supportive. I had a coworker who got married last fall, and we had a big cross-department meeting, and they shared their wedding photos, and we had a cake for them. I know it meant a lot to that person to have that celebrated because they've been in environments where it wouldn't have been celebrated. To see them be excited about having a supportive environment makes me really happy.
Sam Lim: In 2017, I was kicked out of my college's fraternity because I came out and I was in surgery. After graduation, I went to teach in the South, and I was harassed. I was told I wasn't fit to be a teacher because I was queer. Then I went to become the head of an LGBT Center at a university in the northeast. I thought I was safe, but I was still harassed and discriminated against by my colleagues. This is the first job where I can be out and use the word transgender. My coworkers respect me, and I have the benefits I need. That has changed my quality of life so much. I understand the weight that these situations hold for our students who have experienced coming out in college. This board is helping to show future professionals that they can be supported in a professional environment.
Sarah Punderson: Personally, since I've been at Penn, my wife has carried our two children and we've grown into a family of four. It's no small thing to simply be able to share that joy with my coworkers. They threw me a baby shower, which was unexpected. I want to help LEAP lean into improving Penn's reputation as a great place to work for the queer community for a number of reasons.
Emily Delany: For me, it's been rooted in visibility. At Penn Engineering, we have a Diversity, Equity and Inclusion office. I think having an employer that creates spaces of visibility and supports them, whether that's monetarily, publicizing events, or giving access to space. And I hope LEAP continues to be a part of building out those spaces.
A sincere "thank you" to LEAP for participating in this interview with University Life. Click below to learn more about LEAP @ Penn.
Mary Frances Berry and Kermit Roosevelt on Juneteenth's history
A new documentary produced by the Annenberg Public Policy Center explores the history of the holiday and illustrates how and why freedom and citizenship were intertwined. The film features Berry and Roosevelt, among others.
Juneteenth marks the day in 1865 that enslaved people in Texas finally learned that they were free, more than two years after President Abraham Lincoln signed the Emancipation Proclamation.
Texan Opal Lee fought for decades to get Juneteenth recognized nationally, and her efforts were rewarded in 2021 when President Joe Biden signed a bill making June 19 a federal holiday.
Annenberg Classroom, part of the Annenberg Public Policy Center (APPC), has released a documentary "Juneteenth: Exploring Freedom's Stories" that surveys the history of the holiday and illustrates how and why freedom and citizenship were intertwined. The film features Lee, Mary Frances Berry, a professor of history and Africana studies in the School of Arts & Sciences, Kermit Roosevelt, a professor at Penn Carey Law, and others discussing the recently-designated holiday, and how it is connected to freedom. They have hosted several events where the public can view the film and participate in a discussion.
Visible and Vocal
On a mild spring night at the Annenberg Center for the Performing Arts, Haydr Dutta, C'26, was backstage preparing to introduce ALOK, an internationally acclaimed author, poet, comedian, and public speaker whose work explores themes of trauma, belonging, and the human condition.
On stage, Haydr's confident demeanor matched their heartfelt introduction. ALOK, in pink earrings, glittering eyeliner, and a vintage dress that stopped short of their hairy calves, did not disappoint.
ALOK, a gender non-conforming South Asian performance artist, is the inaugural Endowed LGBTQ+ Scholar-in-Residence, a residency made possible by an anonymous $2 million gift to Penn's LGBT Center. Many Penn students were first introduced to ALOK on Instagram, where they regularly share thought-provoking posts and colorful couture outfits with their 1.2 million followers. During their four-day residency, ALOK presided over graduate classes, led workshops, gave the comedy and poetry performance, and shared meals with students. Throughout these public and private events, discussions ranged from trans identity and trauma to radical love, belonging, and the human condition.
Haydr, a health and societies major who hails from Bangalore, India, has considered ALOK a role model for many years. "In my application essay for Penn, I wrote about how ALOK was my favorite activist," they said. "It was unbelievable to have the opportunity to introduce them at the comedy and poetry performance."
Programming that features public figures who identify as trans and non-binary is especially important in 2023. Since the beginning of the year, more than 543 anti-trans bills have been proposed across the U.S., and 70 have already passed. "Right now, trans and non-binary communities are facing extremely harsh political backlash across the country," says Jake Muscato, Associate Director of Penn's LGBT Center. "With ALOK's residency, we showed that trans and non-binary communities matter. Our voices matter. And we will continue to create spaces for trans and non-binary scholars at Penn."
"It's about visibility," says Haydr. "ALOK was the first person I saw who was South Asian, trans, and non-binary. ALOK is so many things: a scholar, activist, poet, radical self-love proponent, pro-body hair. And they're unapologetically themself."
By all accounts, the ALOK residency was a success. The audience at the comedy and poetry performance was buzzing in anticipation and excitement. ALOK's performance that night was at times hilarious and halting, vacillating between a tight stand-up set and performance poetry that left the crowd so quiet you could hear a pin drop.
"LGBTQ+ scholars belong in academia," says Muscato. "LGBTQ+ students need to see themselves reflected in higher education, so they know with complete certainty that they have every right to be here. I know that this residency will encourage more LGBTQ+ folks to pursue academia and engage in important conversations around equity and inclusion."
Class of 2023 Ivy Day
For 150 years, Ivy Day has been an annual tradition at Penn, with each graduating class installing at least one new plaque and planting a sprig of ivy. On Saturday, May 13, the class of 2023 added to the 200-plus plaques throughout campus with a stone designed by Marah Sanchez, a Class of 2023 student in the School of Nursing, and remarks from Vice Provost for University Life Karu Kozuma.
"The Ivy Day Award Ceremony is a special celebration that gives us an opportunity to acknowledge the contributions and accomplishments of our graduating student leaders," Kozuma says. "It is also an occasion to create connections. At the ceremony, we have the privilege of meeting family members and loved ones who have supported the students, while the students can connect with alumni who received the same recognition 25 years ago."
More images are available on Penn's Flickr site.
The 2023 Ivy Day awardees and presenters, all Class of 2023 unless otherwise noted, are:
Contribution and Athlete Awards:
Ceremony host: Carson Sheumaker
Sol Feinstone Undergraduate Awards
Presenter: Interim Provost Beth Winkelstein
Recipients: Jacqueline Chan and Jasleen Gill (third years); Iris Horng (third year); Emilia Onuonga
Association of Alumnae Fathers' Trophy
Presenter: Interim Provost Beth Winkelstein
Recipients: McCaleigh Marr, Kayla Padilla
Class of 1915 Award
Presenter: Interim Provost Beth Winkelstein
Recipient: Piper Bond
Academic Achievement and President's Prizes:
Penn Student Agencies Award
Presenter: President Liz Magill
Recipient: Isabella Mirro
James Howard Weiss Memorial Award
Presenter: President Liz Magill
Recipient: Emily Tu
President's Engagement Prizes
Presenter: President Liz Magill
Recipients: Seungwon (Lucy) Lee, Catherine Chang, Kenneth Pham
President's Innovation Prizes
Presenter: President Liz Magill
Recipients: Tifara Boyce, Gabriela Cano, Gabriella Daltoso, Sophie Ishiwari, Caroline Magro
Student Awards of Merit:
Penn Alumni Student Awards of Merit
Presenter: Penn Alumni President Michael Barrett
Recipients: Ryan Afreen, Joan Dartey, Margaret Gladieux, Rebecca Nadler, William Seklar
Senior Honor Awards:
R Jean Brownlee Skimmer Hat Award
Presenter: Bethany (Rubin) Henderson
Recipient: Alisa Ghura
Spade Award
Presenter: Jason Judd
Recipient: Derek Nhieu
David R Goddard Loving Cup Award
Presenter: Marti Speranza Wong
Recipient: Annie Vo
Cane Award
Presenter: JP Lespinasse
Recipient: Justin Acheampong
Gaylord P. Harnwell Flag Award
Presenter: Daina Richie-Troy
Recipient: Maria Jose Rodriguez Velazquez
Bowl Award
Presenter: Tal Golomb
Recipient: Carson Sheumaker
Althea K Hottel Shield Award
Presenter: Rachel (Ehrlich) Albanese
Recipient: Hunter Korn
Spoon Award
Presenter: Benjamin Dietz
Recipient: Yaaseen Mahomed
Spring Fling Hits the Stage for its 50th Anniversary
The Golden Spring Fling lived up to its name. The University of Pennsylvania celebrated the 50th anniversary of Spring Fling on Friday, April 21 and Saturday, April 22 at Penn Park. The two-day, milestone event sold more than 4,700 tickets, making it one of the highest attended events in its history.  
The student-led Social Planning and Events Committee (SPEC) works tirelessly to put on a multi-day celebration for Penn students every year. Associate Director of Programs Gabe Marenco-Garcia (they/them) oversees the Spring Fling Concerts and Spring Fling Daytime sub-committees that engineer every aspect of the planning and execution of the event.  
Concert planning begins with vetting talent. Executive Liaison Jeffrey Yu and student directors Mia Woodruff, Peyton Singletary, and Tami Owolabi worked around budgets and availability for artists around the show in the early fall. The concert committee's biggest hurdle is competing with Coachella's massive lineup every year.  
"As much as we would love to have Beyonce, the budget doesn't lend itself to that," Marenco-Garcia said. "There are a lot of factors when it comes to selecting talent. It can either go smoothly, or the process can drone on for a while." 
Lauv headlined this year's concert. New York-based rapper Lil Tjay opened the show.  
The planning process involves selecting a theme for Spring Fling and then building the weekend around that concept. Since it was the golden anniversary (50 years) of Spring Fling, liaison Queenie Huang and student leaders Elizabeth Xu, Joyce Davis, and Sheehwa You chose Golden Spring Fling. After that, the organization fit activities, food, and engagements into that theme.  
At the Golden Spring Fling, the Daytime committee offered a 90-foot slide, bungee trampoline with a rock wall, miniature golf, water race trailer, and two different obstacle courses. It welcomed artists that specialize in airbrush tattoos, balloons, caricatures, and face-painting. Nine food vendors, including Federal Donuts, Walking Taco, and El Merkury, were on hand. Giveaways were offered to the first 1,000 Penn students.  
The Spring Fling originated in 1973 as a way of building a community centered around music. Over time, Spring Fling has blossomed into an event that hosts some of the top musical acts in the country.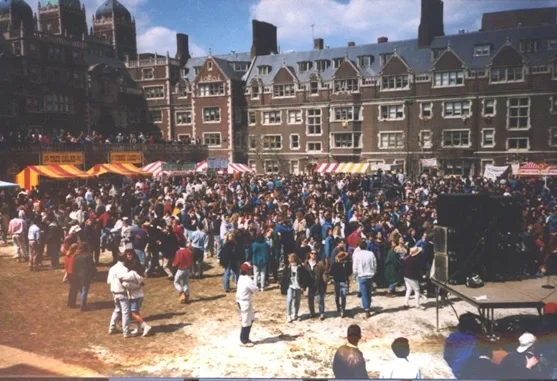 Past Spring Flings have comprised of prominent acts such as Tiesto, David Guetta, Chance The Rapper, Gryffin, Louis the Child, Zedd, Kygo, Chloe x Halle, Passion Pit, Janelle Monae, Lupe Fiasco, Rina Sawayama, Wale, Blues Traveler, Flo Rida, Snoop Dogg, Kid Cudi, Akon, Ludacris, Gym Class Heroes, Third Eye Blind, The Roots, The Black-Eyed Peas, Cherub, Hall and Oates, Tinashe, JoJo, and Jerry Seinfeld. Listen to University Life's Spotify playlist of artists that have played Penn's Spring Fling. 
"It's a chance for students to take a break," Marenco-Garcia said. "We know that that is not always a high priority for Penn students. They want to keep going, going, going…but the weekend of Fling is an opportunity for us to say, 'we are almost there, we are almost to the finish line.' It is a chance to kick back a little bit, take your mind off school and try to build a community on campus." 
Marenco-Garcia said that stress and deterioration of mental health is prevalent during the spring semester's waning weeks. As a result, students sometimes feel inclined to engage in negative behaviors as a coping mechanism to get through the finish push. Spring Fling is a space where Penn students can disconnect in a meaningful and memorable way with their friends. "To me, that's really why we have Spring Fling — to make sure that we are building that community." 
After the months-long effort of putting together the groundwork of a large-scale event, seeing students walk away with the feeling that they had an enjoyable time is the pinnacle of the weekend. Marenco-Garcia measures the program's success on whether students were able to connect with friends, unwind, and engage with the larger Penn community.  
Marenco-Garcia is always encouraging students on the Concerts and Daytime Committees to "step back and soak it in."  
"If I were to be selfish, my hope is to see the students in their element and feel there is a sense of unity," Marenco-Garcia said. "They should walk away feeling that they can take a breather and enjoy themselves. It is important that student leaders realize that their hard work has paid off." 
Spring Fling has experienced a variety of tinkering and tweaking over the past few years. Previously, Spring Fling had organized daytime performances and food vendors in the Quad with a carnival on College Green. Growing concerns about extracurricular behaviors and wellness forced a move to a one-day event at Penn Park in 2018 and 2019. Low attendance numbers motivated SPEC to shift back to a two-day model with a concert on Friday night and a Saturday daytime event. There was a growing sense that students were exhausted and gearing towards thinking about their exams and assignments by Saturday evening.  
Spring Fling was canceled in 2020 due to the pandemic, and it functioned in a virtual format in 2021, which was very well attended. Beginning with last year's show that featured Cheat Codes, Flo Milli, and Lil Yachty, there has been a yearning for daytime entertainment and events.  
In Marenco-Garcia's opinion, the first year of hosting both events on the DCC Field of Penn Park was a success.  
One element that drives Spring Fling's planning is the year-after-year reimagination to ensure 'Fling is an authentic and lively event that speaks to each generation of students. For Gen Z students in attendance, there are always conversations about experience and ambiance. A new addition to Spring Fling was the Concerts and Daytime Planning Committees' inclusion of elements that enhance the student experience. The concert included seesaws, a glow-in-the-dark park, and other attractions that provided a fun break for students in attendance. By empowering student committees to shape Spring Fling annually, the Penn student body remains the centerpiece of the conversation. 
Next year's Spring Fling will be held on April 19-20, 2024. It will mark SPEC's 35th anniversary. 
Weingarten Center's Ryan Miller, EdD Featured on CBS News
Ryan Miller, Ed.D., Director of Academic Support in University Life's Weingarten Center for Academic Support & Disability Services, is featured on Pittsburgh's CBS subsidiary, KDKA-TV sharing tips to maximize time management and avoid becoming overwhelmed.
Student Spotlight: Maliha Rhaman
Penn is an institution that prides itself on its diverse student body and it's no surprise that many students at Penn celebrate Ramadan. To learn more about this sacred holiday, University Life reached out to Maliha Rhaman in hopes that she would share what it looks like to practice Ramadan as a student on-campus. Maliha was gracious enough to share her experience, including what a particular day might look like for a student during the holiday.
This year Ramadan starts on the 22nd of March and ends on the evening of April 21st.
What is Ramadan?
It is the Arabic name for the ninth month in the Islamic calendar. It is regarded as one of the holiest months for Muslims, and it's characterized by a period of fasting. This is meant to represent one of the five pillars of Islam.
The 5 Pillars of Ramadan Are:
1. Faith

2. Prayer
3. Charity
4. Fasting
5. Pilgrimage to the Holy City of Mecca


Where are you from?
I'm from Atlantic City, New Jersey
What class are you taking and what are you studying?
I'm a sophomore studying Health and Societies and minoring in Chemistry and Asian American Studies. I am also on the Pre-Med track
Do you have any hobbies you would like to share?
I'm really into K-dramas because since school is so stressful, it's nice to watch something funny, romantic, and simple. I also like to go on walks, especially by the river.
What is your favorite class you're taking right now?
Asian American Activism. I like it because it's my first Asian American Studies class, and I'm learning a lot of history that I didn't know about. It's really interesting to learn about Asian Americans in the 1800s and 1900s. Most of us are first-generation American citizens, so it's really interesting to learn about the people that came here 100 years ago and what they went through. We also have guest speakers who are activists. That is really cool and interesting to experience, especially as a Pre-Med student because it's so different from the rest of my classes.
What class are you most looking forward to?
Introduction to Asian American History. Since my current class focuses more on activism, I wanted a class that focused on history. It will go more in-depth, and I'm really looking forward to it.
What is your favorite place to eat around campus?
I like to go to Kiwi. I don't eat out often, but I'm always down for a late-night snack!
When did you first start participating in Ramadan?
I didn't have to do it until I was 11; however, I started practicing when I was 7. I didn't do it for the full month, but I did it for a couple of weeks because my brother and my parents were doing it. It was a good habit to practice. At that point, it was August, so if I could get through it in one of the hottest months of the year, then I could definitely get through it afterwards.
How does it make you feel? Do you feel more connected to Allah and to your community by practicing fasting?
I like the community aspect of it, especially at Penn. Ramadan is considered as a time of reflection, forgiveness, and being kind to others and yourself. Definitely listening to lectures about Islam, listening to or reading the Quran. Breaking fast with family brings me closer to God, and that's why I'm practicing to begin with. Especially at Penn, because there is this greater sense of community with the MSA and that we have iftars five days a week. It's honestly a little easier being around my Penn community. Growing up I had Muslim friends but they did not practice as much as I did. At Penn, I feel that being around people who practice as much as me or even more has helped me stay on track and continue to be religious.
How has it been navigating through the rituals of Ramadan and being a student at Penn?
I think it's harder because when you are in high school — yes, you have to be up at 7 a.m. — but it's not that hard compared to college. At home, my mom would wake me up to eat Suhoor, and now I have to make sure I get as much sleep as possible in order to wake up in time and have a meal before my classes. The meal itself is very different, as my mom would have a slow cooked meal, and here I wake up to eat a granola bar. Taking this in mind, I think sleep has been an issue: not getting enough sleep has made it hard to focus on class and studying for exams has also been difficult. Because of that, I have to study all the time, and I don't have enough time to devote myself to Islam, read the Quran, or pray in congregation. Activities have also been difficult to maintain because they coincide with breaking my fast. Everyone has been very understanding on why I can't be present, but it is a little sad that I have to miss out on that part of my Penn experience, especially big activities like Spring Fling.
What is Eid Al-Fitr? How are you planning on celebrating it?
Eid Al-Fitr is the last day of Ramadan where we break our fast. Because I have the privilege of being so close to home, I will go home and spend it with my family. Although there is a community at Penn for me, Eid is about family. Since I recognize I have the privilege of spending it with my family, I try to relish the time I'm home.
Can you tell me what your day during Ramadan looks like?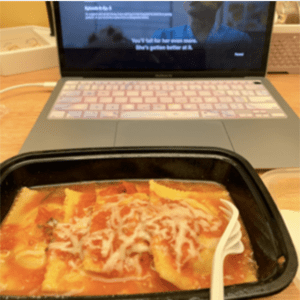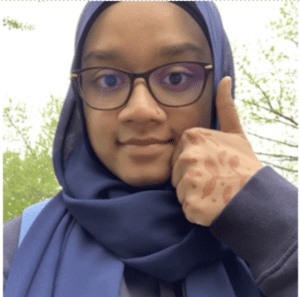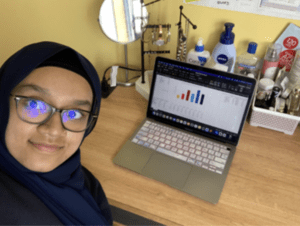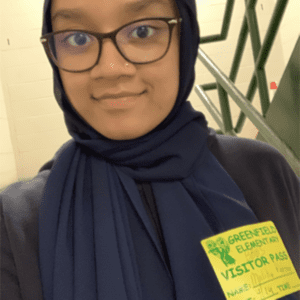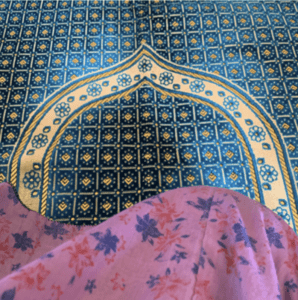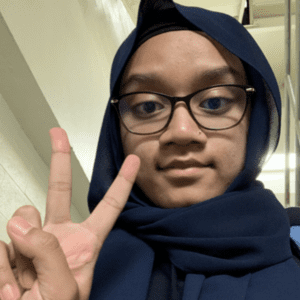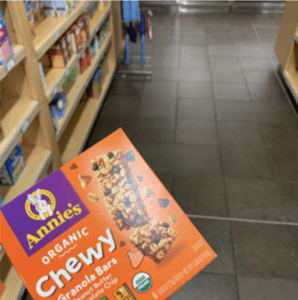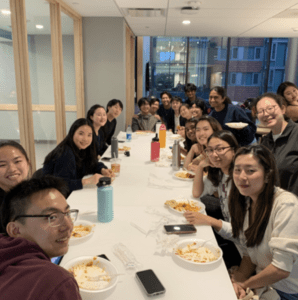 'We Bloom Together' – a mural in the ARCH celebrating Asian Pacific American Heritage Month
From the vivid red poppy of Turkmenistan to the golden shower tree of Thailand, all 66 Asian and Pacific Island countries are now represented on a vivid mural in the ARCH building lobby. The mural, "Planted in Different Worlds by Chance, But We Bloom Together by Choice," was planned by the Pan-Asian American Community House (PAACH) and unveiled with student collaboration in an April 13 event.
The base of the painted mural is a woman's silhouette and a house icon representing PAACH, said Vicky Aquino, associate director and self-taught artist. Aquino came up with the mural's vision. PAACH, she said, "is a place where everyone can grow and bloom like flowers that have their own colors, scents, and unique beauty."
Aquino invited students to choose one or more of 66 flower decal stickers and attach them to the mural, adorning the hair and neck of the silhouetted woman with roses, lilies, plumerias, and Tahitian gardenias. 
"The national flower of the Philippines is jasmine, which smells really good," said Aquino, who chose that as her sticker. "As a Filipino American, that's my pride. I really want to be inclusive of every single person; the best way is to represent them through the national flowers of Asia and the Pacific Islands. As a community, we should all work toward the same goal of advocating for each other, uplifting one another, and living our lives harmoniously like a field of colorful flowers."
Anya Arora, a third-year Wharton School student from Singapore studying finance, and Mary Yao, a fourth-year Wharton student from Longmont, Colorado, studying finance and operations, were excited to see a new mural for Asian American and Pacific Islander Heritage (AAPI) month, celebrated in May, and came to place stickers, they said. 
"There's a lot of diversity amongst Asians and Asian Americans," Yao said. "Everyone has really different backgrounds." Yao meets with the Asian American Pacific Leadership Initiative, a nonprofit that began through PAACH in 2001. While the students in the group explore their leadership styles through multiculturalism, they also "try to unpack a lot of what that what it means to be Asian American," Yao said.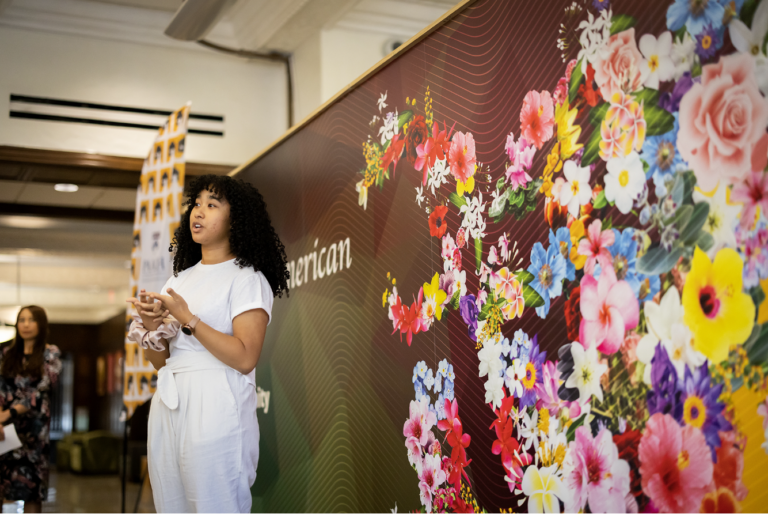 Grace Edwards, a second-year studying health and societies with a journalistic writing minor, worked with the PAACH team on the mural as their office assistant intern. Edwards, who grew up in Damascus, Maryland, and has since moved to Haverford, Pennsylvania, felt it was important to include everyone, she said.
Edwards identifies as biracial. Her mother is from Vietnam; her father is from Barbados. Sometimes, she says, she felt as if she had to choose. During the pandemic, there was a surge of both anti-Black racism and Asian hate, she said. 
"I was able to come to terms with that and figure out what it means to be Black in America and what it means to be Asian American in America," Edwards said. "I'm still kind of navigating that. But I'm hoping that I can use my identity to bridge these two cultures."
The mural also incorporated a QR code that goes to a website where students can list additional AAPI organizations. "If you are part of an AAPI community, please identify that group so that we can come and reach out to you in the fall to collaborate," said Cindy Au-Kramer, PAACH finance, operations, and program coordinator. "If you are looking to connect and you don't know what the resources are, whether it's Penn services, alumni connections, or community partnerships, come to us so that we can connect you."
This project was supported by the PAACH team and program assistants; Marjan Gartland, director of creative strategy and design at University Life; and Will Atkins, associate vice provost for university life.