Penn Student Agencies thrived on continuity as one of the oldest student organizations at the University of Pennsylvania. Each graduating class passed the baton to the next generation of entrepreneurs, creatives, and business-minded students.  
When the pandemic shuttered most of its student-run organizations into a virtual state, it disrupted the clockwork transfer of skills that kept PSA in business for 89 years. The handed-down experience of running a business and knowing the ins-and-outs from a financial, operational, and community perspective was all but lost. Without the training from students with experience, current PSA students missed the baton and were left putting puzzle pieces together from scratch. 
The expertise was retained by PSA alumni. Naturally, the first place they looked to revive the organization was with one of its own.  
Michael Paul Warren '20/'21 took over as the Program Manager at Penn Student Agencies in September '22. The former PSA Executive Vice President of Operations 2018-2020, now titled PSA Chief Operating Officer, looks to reinvigorate PSA back to its pre-pandemic state and reimagine the organization to better meet the needs of Penn students.  
"The pandemic showed us the importance of resilience, both for organizations and individual student leaders. That resilience is what made Penn Student Agencies what they are now. We have a foundation to continue building from the pandemic."  
At its heart, PSA is student-run. It is comprised of four organizational clusters: central corporate, creative services, dining and hospitality, and retail and delivery divisions. Within that, there are currently seven PSA enterprises, consisting of firstServices, Penn Student Design, Penn Lens, Special Deliveries, Penn Closet, Williams Café, and Benny's Diner. It aims to teach transferable business skills to Penn students through hands-on experience outside of the classroom.  
As a student, Michael oversaw many of PSA's human resource functions, organizational effectiveness, and the compliance policies and procedures of the businesses. He and fellow PSA director Jazzy Ortega '20 created a proposal to start a quick-service, all-day breakfast restaurant that became Benny's Diner in Houston Hall.  
PSA changed the course of Warren's career ambitions. He entered Penn as a pre-med student. When he joined PSA, he gained an appreciation for interpersonal relationships. He wanted to learn the dynamics of people working collectively in groups. The experience led him to graduate with a Bachelor of Arts in Sociology with a concentration in Law in Society from the College of Arts and Sciences.  
"I really loved understanding process design and process optimization — how different policies, laws, and structures are set up based on how humans interact with each other. PSA led me down a career path more on the operations and instructional design side of things. In business, I've always enjoyed the ambiguity that came with the startup environment and entrepreneurship."   
Warren graduated from Penn shortly after the COVID-19 pandemic started. He moved to New York City to work in client services serving private equity firms, but quickly shifted back to the entrepreneurial space. Michael helped lead the build out of the global logistics team at a unicorn e-commerce startup based in New York that specialized in consumer goods. Launching in February 2022, he was one of the original team members, and oversaw global inventory movements and relationships on the end-to-end supply chain.  
Michael maintained his involvement to PSA as an advisor. He was appointed as co-president of the Student-Run Business Association in 2022 after serving as a Vice President and on the Board of Directors since 2019. He continued to cultivate different relationships at universities throughout the country.  
Meanwhile, back in Philadelphia, Penn student Chris Raboy '25 was looking for advice on how PSA operated outside of a COVID context. Upon researching pre-pandemic PSA documents and websites, Raboy reached out to several alumni hoping to discover historical information that would improve his ability to reignite the program post-pandemic. He messaged Warren via LinkedIn, and the two stayed in touch after Raboy took over as the Chief Marketing Officer. When the full-time Program Manager position became available, Raboy immediately thought of Michael. The ideal candidate was someone familiar with PSA, who could create continuity, guide PSA post-pandemic, and help grow the program in an increasingly digital world.  
"From our first meeting, I was awed by what I was seeing: structure and efficiency," said Raboy, who is PSA's Chief Executive Officer for 2023-24. "I realized that I had to change the ways I was organizing materials, communicating, and the importance of the first impressions. He gave insight into a ton of the strategies I ended up utilizing throughout the summer." 
Warren's interests in operations and organizational dynamics enable him to expand upon a network of institutions and nonprofits that run similar programs. For example, the business proposal for Benny's Diner was inspired by student-run food service ventures presented at the 2019 Student-Run Business Association conference in Cambridge, Massachusetts.  
"I'm bringing the knowledge of what it was like operating in a pre-pandemic world, the challenges that we faced when I was a student and the challenges that the students before me had encountered. I can share that knowledge and bridge the connections between young alumni and the current students." 
The biggest hurdle for PSA students is navigating the people element of business and entrepreneurism. A lot of businesses that were "heavy on in-person interaction had to alter those interactions to be able to operate virtually or digitally." As organizations become more focused on e-commerce, the student-run businesses need to understand how to keep their staff engaged and ensure positions are appropriately filled. 
PSA's focus for the 2022-23 academic year and beyond is setting up that continuity between leadership, turnover, and new students joining the organization. Warren looks to recreate the consistency that allowed PSA to thrive and replicate a consistent experience on a yearly basis, allowing Penn students to build off what individuals accomplished before them.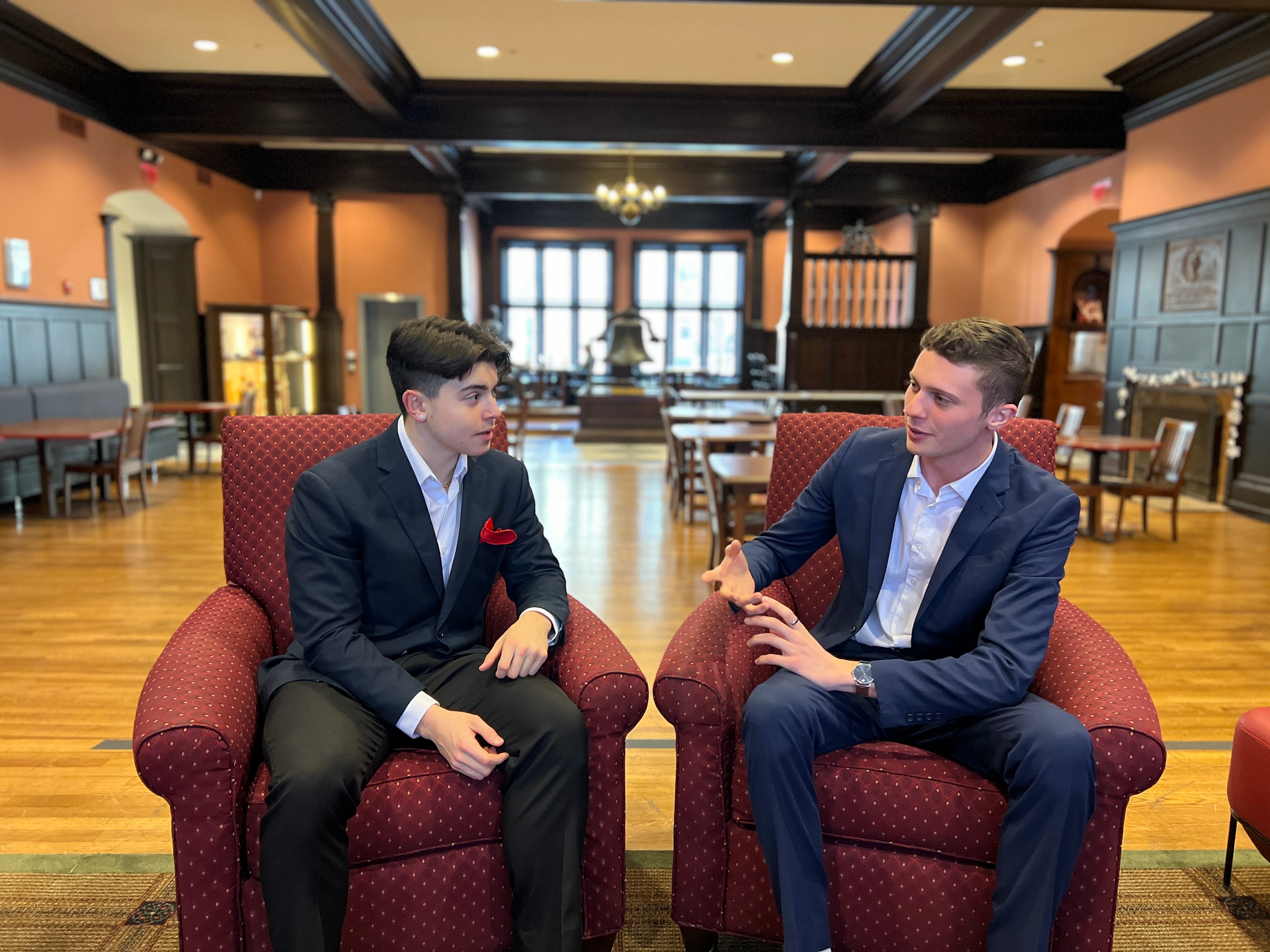 Building A Bridge With Alumni
Warren has noticed a renewed interest in PSA alumni. He said that there is an extensive number of Penn graduates from multiple generations that want PSA to succeed and bounce back from the pandemic. One of Warren's biggest pushes is to establish an alumni network. There is an "untapped potential" of interested and influential grads that can serve as a significant resource for PSA students. 
Because PSA is not tied to any undergraduate or graduate school, one of the advantages that it offers is a wide array of perspectives. Warren said that its leadership and general body consists of a substantial cross-section of different academic disciplines.  
"It's a great opportunity for students to showcase their mindset and how they approach thinking. A nursing student isn't going to approach the problem the same way a Wharton or an engineering student would. Putting them together on the same team and having them brainstorm and navigate the ambiguity that is the startup environment allows them to come up with these creative and interesting solutions to problems." 
A large part of learning for the students in PSA is supported through the introduction of frameworks that help distill large complex problems into more manageable concepts. 
"For many students this is the first time they are taking on considerable responsibility and decision making. Understanding the impact of those decisions can be difficult with limited experience – which brings us to a framework I use with the students – FORTS.  
"FORTS stands for financial impact, operational impact, reputational impact, team impact, and strategic impact. This framework helps student leaders understand what the implications of their decisions may or will have on various aspects of their business and help create a figurative mental fort around their decision making." 
Heading into its 90th anniversary, PSA has always been financially self-sufficient, the money that they make goes back into the programs and students. First known as Self-Supporting Students, PSA began in 1933 as part of the New Deal's National Youth Administration, an early model of what is now the Federal Work-Study Program. It started as three student-run businesses: Dorm Laundry Agency, Parking Squad, and Trunk Moving Squad. Under the name of Associated Student Agencies, it grew to more than 10 businesses in the 1950s, including Coat Checking at the Palestra, Railway Express, and a birthday cake shop. PSA students worked at Pennsylvania's central control point to call in vote tallies during the 1964 presidential election. Adopting its current name in 1975, the organization has since adopted several ventures to its portfolio including apparel manufacturing, tourism guide publications, newspapers, and a bartending school.  
There have been a few success stories, such as Penn Closet, that have prevailed with continued interest in the student body after the organization's founders graduated. Some alumni have gone out and become entrepreneurs on their own by starting competing businesses. It has created unique experiences for students to compete with one of their former colleagues.  
Its alumni have each gone off to their own different paths, whether it is med school, law school, or serial entrepreneurism. Warren said, "the nice thing about PSA is that you have students who join for different reasons and get different values from it." 
As a professional and an alumnus, Warren views his role as a coach and a mentor. Sticking to the organization's for-students mantra, he offers students the freedom to conduct day-to-day operations, think through business decisions, and determine whether they made the correct choices. 
"PSA fosters that environment where you have the support, you have the resources, and it's up to the students to decide how they use them. Providing them direction, giving them experience, allowing them to manage teams before even going out in the corporate world gives them a lot of different exposure and experience that they wouldn't have had if they were simply taking a class." 
Historically each graduating class in PSA is between 30-50 students each year. Currently, PSA retains a database of 600-plus alumni ranging from the class of 2022 all the way back to some as early as 1955. PSA is looking to grow this network!