Ornate stone panels decorate the exterior of the late-Gothic Revival building known as The Arts, Research, and Culture House (ARCH) on Locust Walk. Inside, students recharge among the ARCH's stone fireplaces and dark wood paneling. The building is home to three of Penn's six cultural resource groups: La Casa Latina, Makuu: The Black Cultural Center, and the Pan-Asian American Community House.
These groups are supported by Will Atkins, Associate Vice Provost for University Life who focuses on diversity, equity, inclusion, and belonging (DEIB). Atkins works daily with support staff to learn how to create more opportunities for Penn students to connect with their own communities. He also engages with student organizations in the DEIB space. "So much of the diversity, equity, inclusion, and belonging work that takes place across campus happens at the ARCH, along with the other cultural resource centers housed at the Greenfield Intercultural Center, the LGBT Center, and the Penn Women's Center," says Atkins. "In these spaces, students find community, make connections, and discover more about themselves."
At Makuu, Brian Peterson is the Center's director and so much more. He is a manager, role model, connector, and creative collaborator. He was also a powerful advocate for a new mural which is currently installed on the first floor of the building.
The mural, which is up on a temporary basis, is nearly 50 feet long, wrapped on two walls on ARCH's southeast corner, and features several Black Penn alumni who made notable historic contributions to society. The original sketch of notable Black figures, "Cloud of Witnesses," was created by Abdi Farah, a 2009 College of Arts and Sciences graduate, a decorated visual artist, and beloved former Makuu community member.
"We're in Philadelphia, a city that symbolizes freedom, but we have connections to enslaved people and a difficult history," says Peterson. "All of that is represented so well in 'Cloud of Witnesses.' The mural is uplifting, but it's also a reminder of the stories that we still need to tell."
"Many of the people I drew, like Sadie Tanner Mossell Alexander, the first Black woman to practice law in Pennsylvania, or John Baxter Taylor, the first African American to win an Olympic gold medal, moved through unimaginable resistance not only aware, but rather, empowered knowing they were forerunners of this transtemporal community," says Farah. "I hope the accomplished Black alumni in this mural inspire the Penn community for generations to come."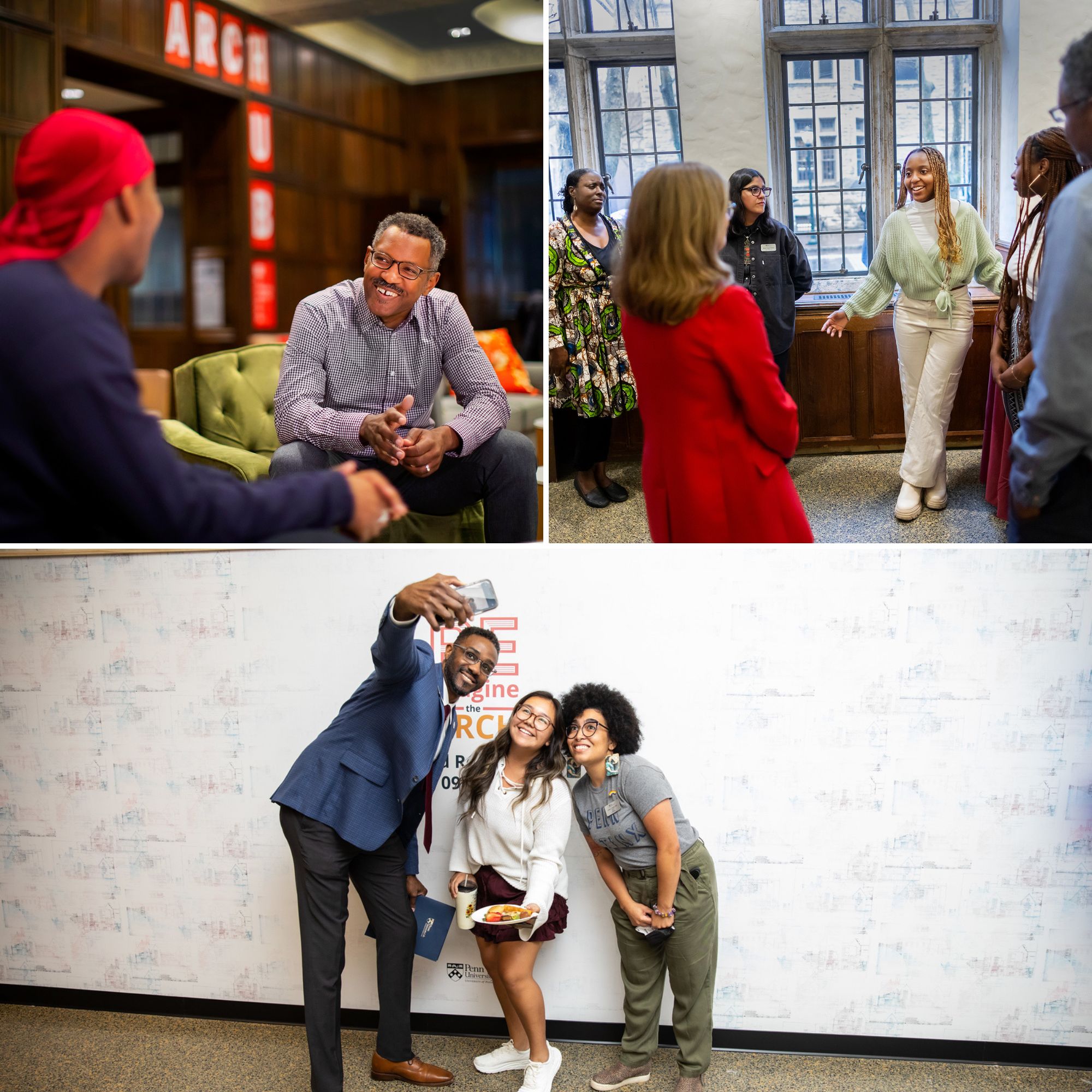 For Peterson, the mural is daily motivation for the unwritten side of his job, like doling out advice and providing a big picture perspective. "I'm centered on student wellness, so helping them succeed is one of the reasons I love being on campus," he says.
One of these students is Tarah Paul, a third-year graphic design major in the College who considers Makuu a second home. Paul was involved in the creation of the mural, lending her graphic design skills and overall creative direction to the project. Other key collaborators were Monolith, the student group that works to showcase and uplift Black visual art, and staff members from Makuu and University Life, including Marjan Gartland, director of creative strategy and design. "The people in this mural were mountain climbers in a sense, which is why we used design elements to visually represent mountains and clouds," says Paul. "I'm looking at this mural with a sense of guilt because I don't recognize some of the names. It makes me wonder what other names I don't know."
Peterson created the key that provides information about each figure pictured in the mural. "[The mural] celebrates Black history, and every day at Makuu my job is to elevate our Black students," says Peterson. "We want to share their stories, showcase their excellence in academics, the arts, social impact, and athletics. Our students are shining stars, but we also want to acknowledge the struggle, the culture, and the lifestyle of Black students at Penn."