Student Spotlight: Harley Haas
Hi everyone! My name is Isha Reddy, and I'm a freshman at Wharton, and a Strategic Planning and Communications intern here at Penn University Life. Working for University Life, I get the unique opportunity to highlight some of the amazing cultural and student life events at Penn, as well as feature the exceptional students behind them through our Student Spotlight series. 
Recently, I was given the opportunity to interview Harley Haas, a sophomore in the College, and a member of the Abuse and Sexual Assault Prevention Club (ASAP) at Penn. Nearing 2 years with the club, Harley is currently ASAP's Internal Chair, and has been working tirelessly with the ASAP team to organize the first in-person Take Back the Night (TBTN) event at Penn since 2019. 
Take Back the Night is an international campaign to combat sexual violence in all forms and foster collective awareness around consent and sexual misconduct. At Penn, ASAP, along with Penn Violence Prevention (PVP) and Penn Women's Center (PWC), strives to continue the conversation about the need for consent education and share important information about resources that can help support survivors. The event typically includes a poster-making session, a rally on College Green, a march around campus, and a survivor speak-out. This year, due to unfortunate weather conditions, Take Back the Night was held in the Graduate School of Education Tent, and could not include a march around campus, though the rally and survivor vigil were successfully held.
Take Back the Night creates a safe and supportive environment for survivors of sexual misconduct to share their experiences surrounded by their community, as well as for student allies to learn about how to support survivors, access vital resources, and advocate for change. This year, the rally and vigil took place on Thursday, April 7th, 2022, between 5 and 9 PM.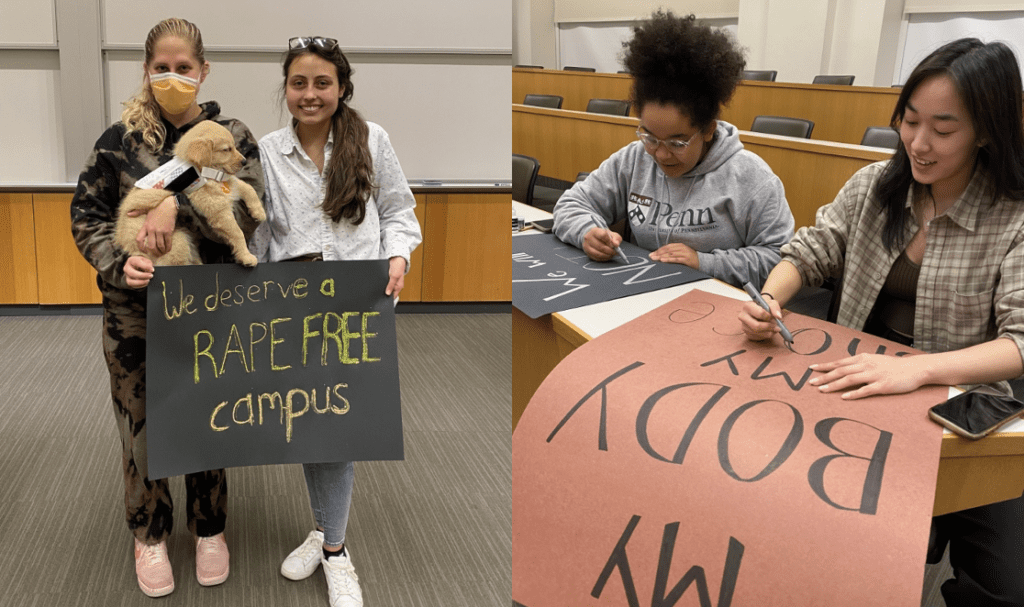 Through ASAP, Harley has seen firsthand the positive impact that Take Back the Night can have on others who have had similar experiences. As she emphasized, "Everyone is welcome at the event, and we hope that this night sparks the conversation about the change that needs to happen on campus." She and ASAP believe that there is always more Penn can do in terms of supporting survivors, raising awareness about consent, and encouraging victims to speak out. 
As Internal Chair, Harley helps direct ASAP's website, through which she aims to promote the club's message, help students access the resources they need, and educate others about the problem and the ways in which they can get involved. Rape culture and sexual misconduct are undoubtedly still extremely prevalent issues in today's time, and it is vital that we, as students and members of this community, raise our voices and make ourselves seen and heard. It is only through collective action that we can truly make any difference. 
Although I myself am fortunate enough to have never been exposed to any form of abuse, I am inspired by Harley, and many others like her, who have found strength in their experience and grown from it. Learning about her work with ASAP and TBTN has really opened my eyes to the gravity of the issue, and the power we each hold. As a young female, and an international student, I am no stranger to worried texts from my mother about my whereabouts, warnings about walking alone late at night without pepper spray, or numerous "… started sharing their location with you" notifications. Events like TBTN exist so that hopefully and eventually some of these things we've grown so accustomed to might not be the norm anymore. Whether you are a survivor or a supporter, there are so many ways you can get involved. From attending the rally and speaking at the vigil, to simply posting on social media or volunteering at the event, the smallest of actions can have the biggest of impacts, for your peers and for your future.
Until next time,
Isha Reddy